Sushma Swaraj: Former foreign minister was an online guardian angle for Indian expats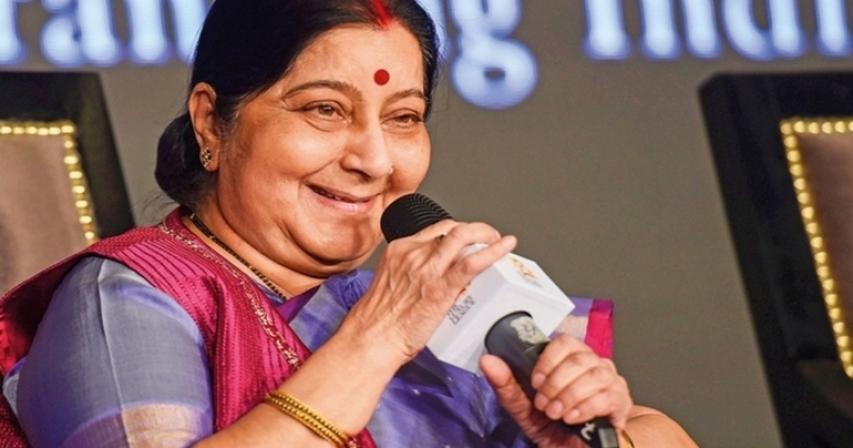 4 months ago / 169
Sushma Swaraj has left a legacy of kindness that the Indian diaspora will be thankful for.
---
If diplomacy has a heart, Sushma Swaraj wore it on her sleeves while serving as India's External Affairs Minister.
The 67-year-old veteran BJP leader, who passed away in Delhi on Tuesday after suffering cardia arrest, made compassion the trademark of Indian diplomacy during her tenure between May 2014 and May 2019.
A seven-time parliamentarian who plunged into politics as a student leader in the 1970s, Swaraj became India's youngest cabinet minister at the age of 25. She held several portfolios including Information and Broadcasting and also served as the Chief Minister of Delhi.
At 5.5 feet, a diminutive Sushma was dubbed the iron lady of the right-wing BJP. But for the 15.6 million Indian diasporas spread across the world, she was a 'fairy in a saree' who turned her twitter handle into a magic wand to pluck people out of their problems.

The globe-trotting External Affairs minister's twitter account literally became a 24/7 helpline for Indians stuck in airports, stranded in jails and even in conflict zones.
When a 16-year old girl from the UAE tweeted that her father was in jail in a fraud case and she did not know what to do, Swaraj was stepped in immediately - "Bachhe (kid) - Give me the details. We will definitely help." A husband who had to go alone for his honeymoon due to his wife's passport issue, a son who was worried about his mother stuck in Nairobi airport, a Pakistani girl who wanted to come to India for treatment - her online kindness transcended boundaries and touched countless hearts.
"Tweeting Sushmaji' became part of the procedure for social workers who dealt with distressed Indians in the Gulf states. Even journalists like me, when approached by Indian expats, started advising them to 'put out a tweet to the minister.'
In no time, Swaraj became a colossal online presence with more than 13 million twitter followers. While politicians were busy using the platform to peddle propaganda, Swaraj's interactions on the microblogging site were mostly focused on common people who needed help. A survey conducted by the Indian newspaper Hindu revealed that about 64 percent of her replies on twitter were to users with less than 500 followers.

A kind trendsetter
A remarkable leader who devoted her life to public service and bettering lives of the poor - as Prime Minister Narendra Modi tweeted in his condolence message - Swaraj was a fearless trendsetter. Her humane approach to diplomacy revolutionized the way Indian missions functioned abroad. The once impenetrable diplomatic fortresses that intimidated common man transformed into open houses that welcomed their citizens. The gruff, tough-talking officials learned to offer welcome drinks and smiles to the unpaid blue-collar workers who knocked at their doors.
These were not just superficial changes. There was a palpable shift in the working philosophies of embassies and Consulates. Ambassadors and Consul Generals emphasized the mantra that the missions are here to serve the Indian citizens. Social media platforms of Indian missions became people-friendly, interactive and actively pushed awareness messages against scams and fake job offers.
It goes to Swaraj's credit that she succeeded in cascading down her adorable humanness to the Indian diplomatic cadre that represents the government of India abroad.
As the online guardian angel logs off from a remarkable career, she has left a legacy of kindness that the Indian diaspora will be thankful for.
/ Source: KhaleejTimes