Watch Perseid Meteor Shower Live in Dubai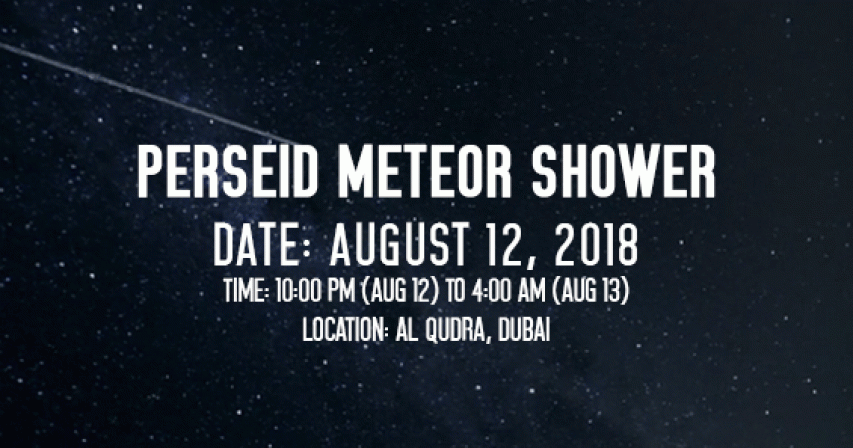 Watch Perseid Meteor Shower Live in Dubai
The Perseid meteors are one of the most active meteor showers of the year with as many as 100 shooting stars appearing on an hourly rate.
The meteor shower is known for producing exquisitely bright fireballs streaking across the skies during its short peak. The good news is you can watch the show LIVE courtesy of the Dubai Astronomy Group.
The annual Perseid shower peaks between the nights of Sunday, August 12, and the wee morning hours of Monday, August 13. Astronomers at US space agency NASA advised the Perseids will be at their most intense around 2am-4am local time on Monday morning.
In case if you are wondering where to watch Perseid Meteor Shower in Dubai, The Dubai Astronomy Group has organized a "Perseid Meteor Shower Party" in dark side of Al Qudra desert for all the stargazers and fans.
The event will also provide an opportunity to look through telescopes at other celestial objects including; Jupiter, Saturn, Mars, Stars, Globular clusters, Nebula and other deep sky objects. It will also feature a Presentation, Talk & Q&A Session

Here's the Program Schedule:

1. Presentation about the Event & Talk
2. Naked Eye Observation
3. Telescopic Observation
4. Video Shows
5. Q&A Session

Where to Book Tickets for Perseid Meteors Shower in Dubai?
Q-Tickets Dubai is the official ticketing partner for this event and Many Dubai Events Online Tickets you can avail on their site here: https://www.q-tickets.com/uae/events/Perseid_Meteor_Shower_2018
Ticket price starts from 150 AED per adult and 70 AED for children below 13 years of age. DAG Members can avail special ticket price @50 AED (You must have valid membership of international/associate/student category and valid membership ID card to avail this discount)

Further details can be browsed here.
RELATED: For all the space enthusiasts Dubai Astronomy Group is now conducting astronomy courses online in Dubai to build your science skills. Know more.
For the photography enthusiast
If you want to get a keepsake of this year's shower, try grabbing a photo. All you need is a tripod-mounted digital SLR camera that can take long exposures of 15 seconds or more.
Use a wide lens to capture as much of the overhead sky as possible, and set your camera to ISO 400 to pick up fainter shooting stars. You can also set a remote timer to eliminate any camera shake.
Keep in mind that taking a picture of the Perseids involves some patience and luck. It can take many minutes before a single meteor crosses your frame, so experiment with images lasting up to 40 seconds each, and keep taking images for as long as possible.
All in all, looking up for these meteors is a nice opportunity to discover the wonders of the sky and that there is beauty even in a fraction of a second. Don't miss out!
For all the updates on events near you, don't forget to subscribe to us.