The mesmerizing trundle towards Overnight Desert Safari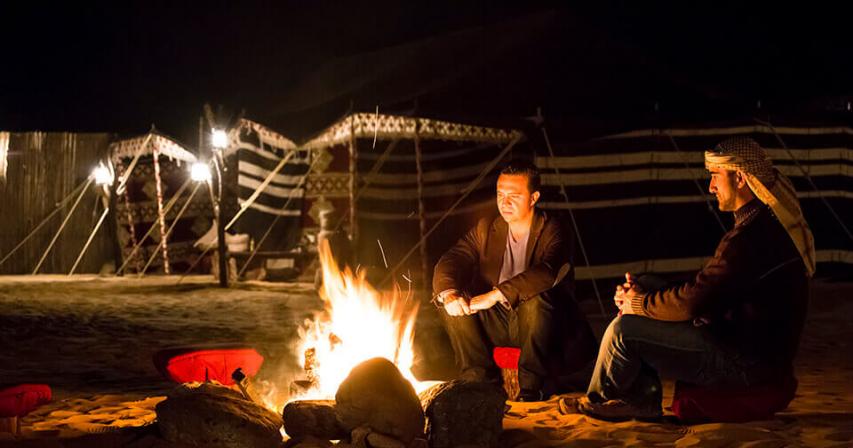 Desert Safari Dubai
Dubai is an amazing Destination for tourism and it flaunts many of its fascinating spots and other activities that keep the tourists busy. Even the overnight activities are rampant in Dubai that are wrapped up surprises in store for you. Out of many, the most awe-inspiring activity is the Overnight desert safari.
Many travelers are such freaks that they adore the concept of overnight desert safari to the core, they wouldn't miss to experience it. It's indeed a rejuvenating experience to cherish, spending a night close to nature. Though the night is dusky and appears gloomy, spending the time amid the dark with just the twinkling stars above you has been an overwhelming feeling for life.
Spending a night under the skies of the desert is a dream come true in itself. Exactly the tour sets off right from the hotel or restaurant wherever you have halted. You will be taken by an exclusive vehicle meant for desert safaris. Once you reach the camp, you will have enough options for refreshments such as snacks in the form of sweets and fruits.
Finally, you can get into the treat of enjoying your galore of activities such as dune bashing, sand skiing, and sand boarding. If you fancy dressing up as an Arab, you have all the options to get you dressed up and click some bewitching images of yourself in the attire, also you can try out henna designing too. You can also enjoy a camel ride followed by a barbecue dinner and the live performances of belly dance that keeps you engaged in an enthralling ambiance.
You will be even provided by overnight beverages such as tea, coffee and sleeping bags and blankets for a cozy sojourn. In the morning again, you'll be woken up by tea and coffee before you are dropped back to your hotel or restaurant. There are many packages for the overnight desert safari such as VIP package, Gold package, advanced package and exclusive packages etc.
This itinerary is one such instance for a VIP package that has the following features:
· The tourists are picked up from their stay hotels, apartments, restaurants, metro, villa etc.,
· The pick-up is through a 4*4 land cruiser for appealing desert safaris
· Dune bashing in the desert for about 30 minutes
· Exclusive rides towards high dunes followed by a photo stop
· Beautiful and captivating sunset scenes can be captured
· Pleasing greet at the entrance through tea, coffee, and other refreshments
· Experience of fragrant Sheesha (Arabic water pipe)
· Hubblee Bubblee Smoking experiences
· Photo session with the Arab attire
· Henna painting
· Sandboarding and sand skiing experiences
· Pleasing camel rides, etc.
Refreshments and Recreation
· Soft drinks, Juices, water bottles
· Barbeque and buffet dinners both vegetarian and non-vegetarian
· Extravagant stage light and music show
· Two Mesmerizing performances by belly dancers
· Five live entertainment shows
· Appealing Tanura dance performances
· Stunning fire show
· Adventurous horse shows
· Fire quad biking in the locale for 10 – 15 mins
· Overnight refreshments
· Stunning sunset scenes
· Early sun-rise scenes
· Early morning breakfast and refreshment options
· Drop off to your location
Some instructions on a crucial note
· Tickets Booking should be made prior to 48 hours well in advance.
· Tickets for children in the age group below three is free and above 3 years has to be paid.
· Sometimes discounts are provided with tickets for family or a group of 10 or above.
· Refreshments of all sorts are provided such as cold drinks, fresh juices etc.
· Any change in the timing for the driver pick up and drop offs can be communicated and the same will be looked into.
· Payment terms are flexible, as in, the tickets can be booked online and the payments can be made via cash too.
· The tourists can be picked up from any part of Dubai or Sharjah of the surrounding locations.
· Desert safari or dune bashing is not encouraged for Individuals like pregnant ladies, individuals ailing from back problems, aged individuals etc.
· All the vehicles that are boarded are exclusive ones meant for desert safari.
Additional Information
Do check out the options within your budget limits at q-tickets.com
​
By: Shyamala RY