5 Places Where You Can Enjoy Your Weekend In Dubai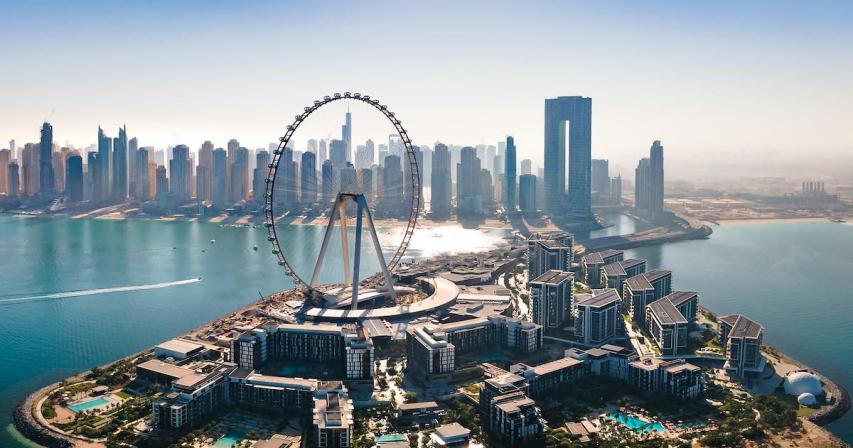 A weekend in Dubai is the ideal introduction to the city. In Dubai, a place of abundance and top-notch everything, it's simple to become overwhelmed (but in the best way possible). Start by exploring both traditional and contemporary attractions. Here are some of the essentials you shouldn't miss if you are visiting Dubai for the weekend!
5. Dubai marina yacht
Prepare to travel abroad a traditional and breathtakingly opulent yacht to discover Dubai's gems. Surf through the water in a 65-foot bluewater yacht that continues to set standards and features a large flybridge, seating area, and lounge area for a beautiful and star-like journey. The roomy yacht offers lots of space for relaxation and is ideal for families, couples, or groups of friends. Meet new people and have a blast while admiring the breathtaking views of your surrounds.
Starting Point: Pier 7 Valet Parking
Batch Size: 30 - 35 Pax
Activity Duration: 2-3 hours (approx.)
Activity Timings:
Morning Departure (09:00 AM - 11:00 AM)

Lunch Departure (11:30 AM - 13:30 PM)

Afternoon Departure (14:00 PM - 17:00 PM)

Sunset Departure (17:30 PM - 19:30 PM)
4. IMG Worlds of Adventures
The IMG Worlds of Adventure is home to numerous magnificent structures and buildings that have broken numerous world records. It is also recognized as the largest indoor theme park in the world.
With IMG Worlds of Adventure tickets, you may explore four "epic zones," two of which are based after the aesthetics of Cartoon Network and Marvel and the other two around recognizable landmarks like IMG Boulevard and The Lost Valley. Additionally, the Dinosaur Adventures zone offers a wide variety of the most exhilarating rides, including adrenaline roller coasters that are truly unique and many more.
Activity Location: E311 Sheikh Mohammed Bin Zayed Rd, City of Arabia, Dubai
Park Timings:
Sunday to Friday : 12:00 PM – 10:00 PM
Saturday: 12:00 PM – 11:00 PM
Activity Duration: 8 Hours (Approx.)
3. XVA Art Hotel
The 3 courtyards of the renovated 19th-century residence of the Seddiqi family, wealthy businesspeople who later became the emirate's Rolex dealers, are encircled by the XVA Art Hotel. Each second-floor room of the traditional wind tower house was decorated by longtime resident Mona Hauser, founder and owner of the XVA Gallery of contemporary art, in association with a local designer or artisan, such as Nada Debs, a Lebanese designer well-known for her custom mother-of-pearl inlaid furniture. Individual travelers and local creatives congregate at the on-site alfresco vegetarian lounge café, which chef Gordon Ramsay has lauded as his favorite restaurant in Dubai, to linger over mint lemonade, salads, soups, and cheesecake. Along Dubai Creek, there is a running path, and the hotel may suggest neighboring beaches, spa services and fitness centers at all price points.
2. Hot Air Balloon
Enjoy and discover the famous Dubai desert while floating leisurely in a hot air balloon. All balloon rides start right before sunrise, allowing you to see the majesty of nature at dawn all around you. You board the basket for the Dubai hot air balloon trip after a brief pre-flight lecture and soar across the enormous expanse of the Dubai desert. From the moment the balloon lifts off, you'll be enthralled! You will peacefully float across the amazing conservation area and over the desert's vegetation and wildlife on the wind.
Activity Location: Desert Margham/Hajar
Batch size: 16 to 20 Passengers
Age Limit For Hot Air Balloon in Dubai: Above 5 years
Activity Timings: 03:00 AM to 08:30 AM
1. Ski Dubai
The most absurd concept ever conceived by mankind is a ski hill in the middle of a desert, on the Persian Gulf no less—but isn't thinking big what Dubai is all about? Of course, Jackson Hole or Vail cannot be replaced by the hills at Ski Dubai, but that is not their intended purpose. You only go for the experience of strolling down the corridor after leaving a home goods store and reaching the slopes. Ski Dubai rents out all the necessary equipment, including long overcoats for women wearing abayas. You can go skiing or sledding, play with penguins, roll down the hill in inflated plastic balls, or just take the chairlifts back and forth.
Pick-up/ Drop-off Location (if transfers selected): From your hotel centrally located in Dubai (Deira, Bur Dubai)
Operational Hours: 09:00 AM to 12:00 AM (Sun-Sat)
Activity Duration: 6 hours (approx.)
Age limit: Above 2 years
By: Habiba Saleh