Etisalat, Huawei announce 5G partnership; unveil Mate 20 X 5G in UAE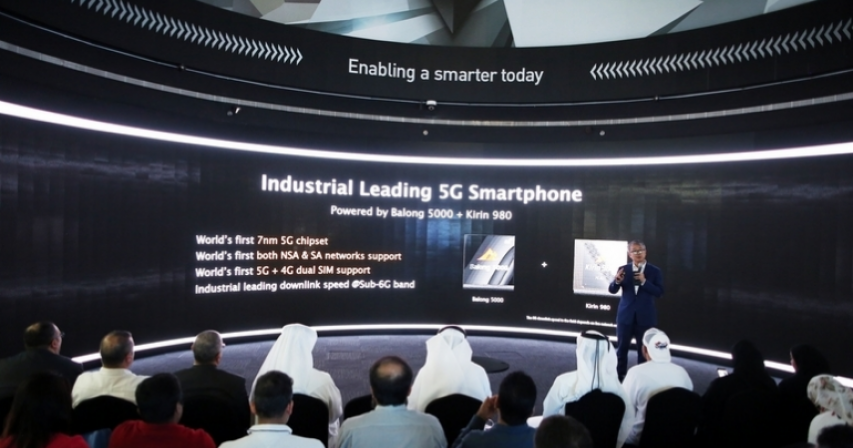 Etisalat and Huawei are determined to bring 5G technology further into the mainstream in the UAE. And as an added bonus, a more affordable 5G smartphone as well.
The companies announced a partnership in Dubai on Wednesday aimed at ushering a new era in mobile connectivity and experience, as they spearhead the charge of the next-generation mobile standard in the country.
Dr Ahmed bin Ali, Etisalat Group's senior vice-president for corporate communications, and David Wang, country manager for the UAE at Huawei Business Consumer Group, gave keynotes at the event in which they touted the potentials of 5G technology, especially what it can do for a tech-savvy country like the UAE.
The Abu Dhabi-headquartered telecommunications firm had recently rolled out its commercial 5G operations in the UAE, giving its users free access to its 5G network.
But only 5G-enabled devices will be able to access that network. At the time, etisalat was only offering the ZTE Axon 10 Pro for Dh5,555. The Huawei Mate 30 X 5G, meanwhile, was without a price back then.
At the event in Dubai, Huawei also announced that the Mate 20 X 5G will be retailed for only Dh3,699.
The smartphone comes with two chipsets: The Balong 5000, the world's first 7nm 5G multi-mode chipset capable of connecting a wide range of network protocols including 4G, 3G and 2G; and the Kirin 980, Huawei's fastest chipset by far and the brand's 7nm top-of-the-line system on chip. Together, the Huawei Mate 20 X 5G is capable of providing users with ultra-fast downlink speeds.
In addition, smartphone comes with a 7.2-inch Amoled screen for streaming and gaming, which is also boosted by GPU Turbo 3.0 for a better visuals. It also includes a Leica triple camera system with 40MP wide-angle, 20MP ultra-wide and 8MP telephoto lenses for photography from macro to ultra-wide modes.
The race for 5G is heating up, with more telecom firms gearing up their infrastructure for the future. Etisalat is the first in the Mena region to offer 5G commercially.
/ Source: Khaleej Times