Russian forces fired and captured three Ukrainian warships off the Crimean peninsula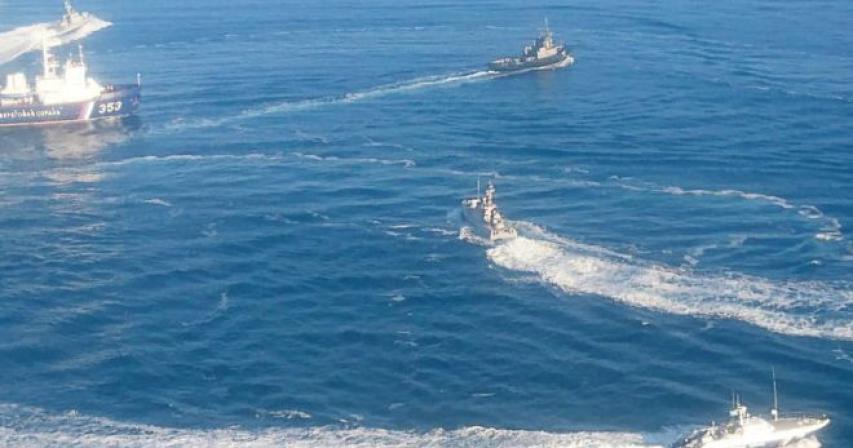 Russian warships intercepted Ukrainian ships after they entered Russian waters
7 months ago / 1547
Russian forces fired and captured three Ukrainian warships off the Crimean peninsula, which Russia seized years ago, in a new escalation of tension between the two countries.
Russian forces seized two warships and a locomotive, and a number of Ukrainian crews were injured.
Each country blames the other for the incident.
The Ukrainian parliament is due to vote on Monday to declare a state of emergency.
The crisis began when Russia accused Ukrainian ships of illegally entering its waters and preventing them from sailing in the Azov Sea.
Russia has put an oil tanker under a bridge over the Kerch Strait. The strait is the only crossing to the Azov Sea, shared by the two countries.
During a meeting of the Security and National Defense Council in Kiev, Ukrainian President Petro Poroshenko described Russian actions as "insane and unjustified."
Tensions have risen recently in the Black Sea and the Azov Sea, off the Crimean Peninsula, which Russia annexed in 2014.
How did the crisis break out?
On Sunday morning, two warships and a boat from Ukraine attempted to sail from the port of Odessa on the Black Sea to Mariupol harbor on the Azov Sea.
Ukraine said that Russian forces tried to intercept ships, and shocked the tow boat.
The two vessels continued to sail towards the Kerch Strait but were intercepted by the oil tanker.
Russia has mobilized four warplanes in the area and accused the ships of illegally entering Russian waters and said the passage was suspended for security reasons.
The Ukrainian navy later said that its boats were hit and disrupted as it tried to leave the area.
By: Staff writer
/ Source: BBC