Can't wait to float my way at the space station: Emirati astronaut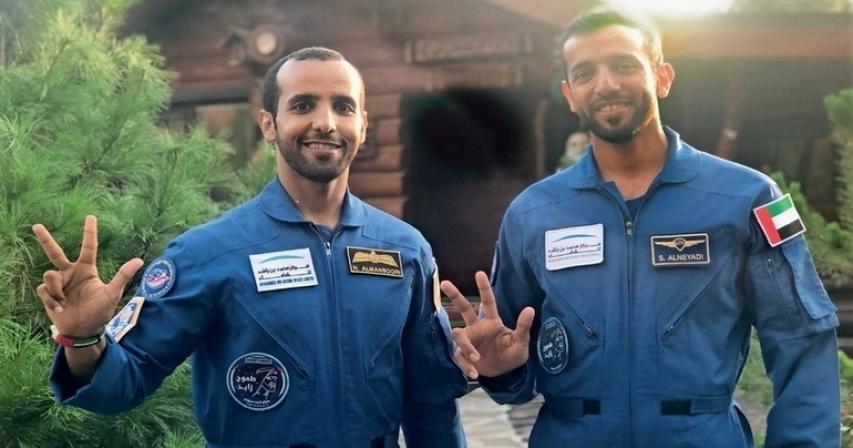 Primary candidate Al Mansoori has revealed interesting details about his mission.
---
The UAE is less than three weeks away from achieving a historic feat as it prepares to launch its first Emirati astronaut to the International Space Station (ISS) on September 25. As the launch date nears, Khaleej Times spoke to the astronaut, Hazza Al Mansoori, and his back-up Sultan Al Neyadi, in Star City (Russia) where they have just passed their final exam.
Can't wait to float my way at space station: Emirati astronauthttps://www.khaleejtimes.com/news/general/cleared-for-liftoff-uae-astronauts-ace-final-exam …

Video by Sarwat Nasir/Khaleej Times
See Khaleej Times's other Tweets
Primary candidate Al Mansoori has revealed interesting details about his mission, including how both of them have actually never seen a live rocket launch. Though, he and Al Neyadi are well prepared as the Russia space agency - Roscosmos - scored them 'excellent' on their final exam, meaning they're both qualified for a space mission.
We've been tracking their movement in Russia as Al Mansoori is about to go on a mandatory quarantine after September 10. Then, a couple of weeks later, he'll launch from the Baikonur Cosmodrome at 5.56pm (UAE time).
Hazza Al Mansoori
How are your feelings shifting with the launch date being less than three weeks away?
My emotions are really mixed. I feel pride, excitement, and I'm counting the days as I get closer to the launch itself. I'm going to represent not only my country but the whole Arab region at the ISS.
What's one unforgettable memory of yours in this entire journey so far?
One of the things I will not forget is when I wore my suko, the spacesuit designed for the Soyuz to take us to the space station. I will never forget when I wore the gloves and saw my hands with the space gloves - it's really something different.
What will be going through your mind when you get inside the Soyuz spacecraft, waiting for liftoff?
I am really nervous, but we are prepared. I've been through a lot of training in the past months and I'm prepared for this mission. Going through the whole process itself is something I cannot describe, but we have been prepared in Russia and different agencies around the world.
What is one activity or task you are most nervous about doing onboard the ISS?
I think to adapt to the microgravity. I really want to get the feeling of floating from one end of the station to the other. I will be doing the superman manoeuvre - that's what they call it when astronauts on board the station do it.
Has it been difficult staying away from your family and how often did you get to see them?
My family supported me through this whole process, even by phone calls or videos. They sent me these almost every day. I want to thank my wife and kids for supporting me through this entire journey. I'd also like to thank my parents. I'm here because of them. They raised me well and they gave me this passion and confidence in myself to pursue interesting paths in life and reach this place here.
You've actually never seen a rocket launch. Does that make you nervous knowing you'll be lifting off soon yourself?
The first launch that we'll see will be my own launch. By the way, we will be launching from the Yuri Gagarin launch pad, and this will be the last launch from that pad. It's really amazing how fate is working out. The Arabic meaning of my name is 'the last arrow' and I'll be on the last rocket that will be launching from that pad. I'm honoured to conduct this mission.
What's the first activity or task you will do when you reach the ISS?
My first task is to do a tour of the safety facilities onboard the station. That's from our schedule point of view. Personally, I want to go to the 360-degree window and look at the Earth and the amazing view that all astronauts around the world describe. It's a breathtaking view.
Sultan Al Neyadi
You've just passed your final exam. What was that process like? What was your first thought when you found out you passed?
The exams were divided into two parts: The first part was inside the Soyuz and the second part was on the Russia segment of the ISS. For the first part, we had to sit inside for eight hours in the Soyuz.
We had to monitor many parameters and initiate many commands to ensure the flight is nominal.
We were really ready to do this test. We had many hours training with the crew. Finally, we had to sit in front of the commission and they commented on the overall performance. We're happy to get an excellent mark.
How do you deal with having to stay away from your family during this long training period?
Right from the beginning, we understood that these challenges might be present - staying away from the family and dealing with the cold weather in Russia. These factors were studied by us before we even applied for the astronaut programme. We know it's a big challenge but the dream and the mission is bigger. We are believing in the cause of sending the first Arab and Emirati to the ISS.
When you'll be watching the rocket about to lift off with your colleague Hazza inside, what will be going through your mind?
I've told Hazza many times that I'm more excited than he is. I'll be really excited to see him launching on September 25. Because we've never actually seen a live launch before, I always joke with him that I'll be the first to watch a live launch between us two.
/ Source: KhaleejTimes