Tourist buys 11 iPhones on first day of UAE release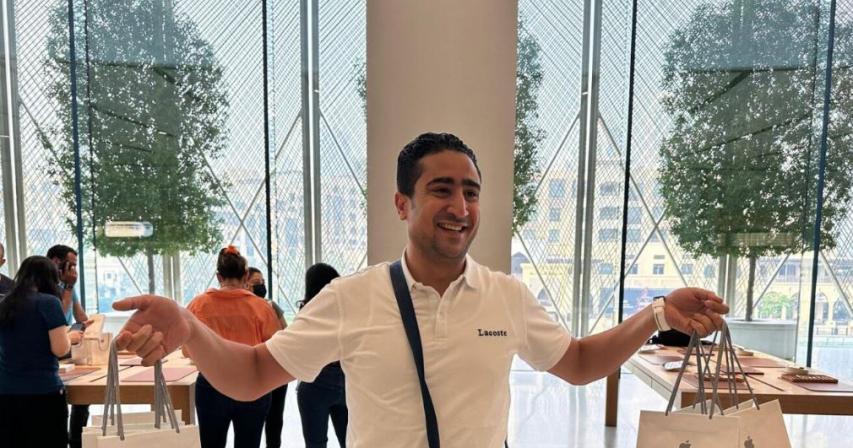 iPhone Enthusiasts Throng Dubai Mall for Apple iPhone 15 Launch
The highly anticipated Apple iPhone 15 series made its debut in the country today, and the Dubai Mall witnessed a surge of excitement as thousands of iPhone enthusiasts arrived early in the morning to collect their reserved devices.
Also Read:Explore Dubai's Family-Friendly Destinations for 2023
Many had pre-ordered their iPhones in advance to ensure they were among the first to experience Apple's latest technological marvel, available through the company's online store.
Among the eager shoppers was Ahmed Brimu, an Egyptian national who was among the first to arrive at the Apple store in Dubai Mall. Brimu had reserved a remarkable 11 iPhones on September 15 and expressed his elation after finally getting his hands on the new devices.
He stated, "It took a long time for me to escape the queue and enter the store. It is all worth it now after getting my hands on the new device. I purchased these devices for my family, who are eagerly waiting for them. I am so happy that I could make it on the first day." Brimu's purchase amounted to over Dh100,000.
Notably, Sanat Anarboyev, Adel, and Aziz traveled from Uzbekistan to Dubai to collect their iPhones from the Apple store at Dubai Mall. The three cousins were part of the early morning crowd and managed to secure two iPhone Pro Max 512 GB devices each.
Sanat expressed his joy, saying, "This is my happiest day. We came to Dubai on a visit, and as the launch date coincided with our stay here, we decided to try our luck in reserving the new mobile phone. Surprisingly, we got it for 8-10 am."
The trio collectively spent over Dh200,000, taking home a total of 19 phones. They are excited to be among the first in Uzbekistan to have the latest iPhone.
For more such updates visit our official website
By: Vibha Kapoor