Top Restaurants in Dubai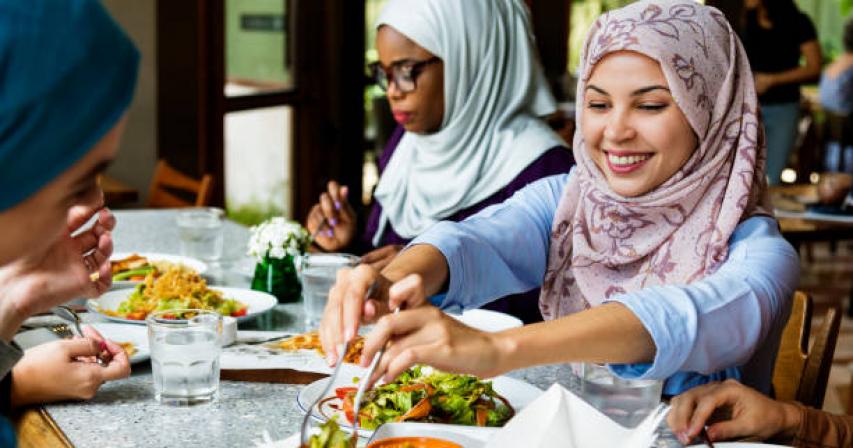 Dubai Top Restaurants
Dubai is undoubtedly a paradise for food enthusiasts, offering a diverse culinary landscape that caters to all tastes and budgets. While the city is renowned for its extravagant dining experiences, it also boasts an array of exceptional eateries, ranging from humble street food vendors to opulent fine dining establishments. Dubai's food scene is truly world-class, featuring a blend of internationally acclaimed Michelin-starred restaurants and exciting homegrown gems. Whether you're seeking a lavish indulgence or a budget-friendly meal, here are some of Dubai's finest dining establishments to tantalize your taste buds.
Also Read: Milad-un-Nabi 2023: History and Date of the Prophet Muhammad's Birthday
To begin our list of the best restaurants in Dubai, we're starting with a Lebanese fine dining establishment that excels in mezze. Al Nafoorah boasts two branches in Dubai, one located on the Palm and the other in DIFC, with our preference leaning towards the latter. This restaurant attracts a diverse crowd, including business professionals from the nearby financial district, couples, and families.
Al Nafoorah is synonymous with luxury, and while you can certainly find more budget-friendly mezze options in the city, this restaurant stands out as one of Dubai's culinary gems for its top-quality Lebanese cuisine. Guests can choose from set menus, such as Beirut, Tripoli, Byblos, and Sidon, or opt for à la carte dining, ensuring a wide array of choices. If you're a carnivore, don't miss out on their delectable grills.
If you're looking for a must-try dish, the classic hummus is a timeless favorite. While it might seem like a common chickpea dip, Al Nafoorah's rendition elevates it to a whole new level – it's rich, creamy, and generously served with fresh, fluffy bread. You can't go wrong with this choice.
With a lively atmosphere, vibrant décor, and a fun-loving, glam crowd, Bistrot Bagatelle is one of the best restaurants in Dubai for a late-night dinner. The vibe picks up as the night goes on, with live music and an upbeat party vibe.The food doesn't play second fiddle either, with standout French dishes ranging from garlicky escargot to herb and sesame-studded rack of lamb and truffle-roasted chicken.
If you only order one thing, make it the cotelettes d'agneau grillees, artichauts violets (grilled lamb rack served with a tomato and parmesan puree, glazed lamb belly, and a violet artichoke). It's a truly delicious and memorable dish.
Here's why you should visit Bistrot Bagatelle for a late-night dinner:
Lively atmosphere with live music and an upbeat party vibe
Vibrant décor and a fun-loving, glam crowd
Standout French dishes, including the signature cotelettes d'agneau grillees, artichauts violets
So if you're looking for a great place to enjoy a delicious meal and dance the night away, Bistrot Bagatelle is the perfect place for you.
At this sibling restaurant of the renowned Indian eatery Trèsind, you're in for a playful and visually captivating dining experience. With dramatic presentations involving billowing dry ice and cocktails served in unconventional vessels like ceramic skulls and popcorn bags, it's clear that Carnival by Trèsind embraces creativity and fun.
The menu follows suit, featuring highly inventive dishes with equally imaginative names. The "who moved my cheese?" (baked paneer pinwheels), Indian-style southern fried chicken, curried mushroom empanadas, and biryani burgers are just a few examples of the culinary delights you can expect. The restaurant's ambiance is characterized by a moody decor with vibrant pops of color, creating an ideal setting for indulging in molecular gastronomy.
For a delightful dessert experience, be sure to order the gajak. It's essentially a deconstructed version of a Snickers bar, and the way it's served is nothing short of spectacular – a smashing treat for your taste buds.
Indochine, a contemporary French-Vietnamese restaurant, has made a mark on Dubai's DIFC dining scene despite being a relatively new addition. This renowned New York establishment, which originally opened in 1984 and has hosted numerous celebrities over the years, has quickly become one of Dubai's trendiest dining destinations since its debut in early 2020. Indochine boasts a chic and lively atmosphere, stylish decor, and a coveted location in DIFC's gastronomic hub. Securing a reservation here is a must.
Indochine's menu features a variety of standout dishes, including Vietnamese ravioli, duck blossom salad, wagyu beef tartare, and escargot, all of which are highly popular among diners. However, if you were to order just one dish, don't miss out on the Fried Imperial Rolls – a gourmet spring roll filled with shrimp, chicken, carrot, shiitake mushrooms, glass noodles, and water chestnuts.
Situated in the heart of DIFC, this restaurant offers a menu that draws inspiration from the culinary traditions of Spain, Italy, and France, presented with a playful and innovative twist. What sets this establishment apart is its commitment to sustainability, emphasizing the use of fresh, locally sourced ingredients while keeping the preparations refreshingly uncomplicated. The BOCA team takes pride in supporting local hydroponic farms and sourcing oysters from Dibba Bay, among other sustainable practices.
For those following a vegan diet, there's an extensive menu catering to your preferences, and the restaurant boasts an intriguing selection of wines. Start your dining experience with a serving of ice-packed manzanilla olives, known for their zesty freshness, as you enjoy an aperitif. When it comes to your main course, don't miss the opportunity to savor the black seafood paella, featuring octopus, shellfish, and crispy calamari – a sophisticated reinterpretation of a classic Spanish dish that's highly recommended.
Izu Ani, one of Dubai's most renowned chefs, has brought his culinary expertise to the forefront with GAIA, a Greek-Mediterranean restaurant located in DIFC. This chic establishment has quickly become a favored dining spot in the area and has gained attention for its royal visitors.
The dining room exudes sophistication with its neutral tones and gold-trimmed decor. GAIA offers a unique fish market-style experience, allowing diners to select their fresh catch and choose how it's prepared – whether raw, grilled, baked with Greek herbs and spices, or salt-baked. The rest of the menu is dedicated to Greek mezze sharing dishes, all infused with modern twists and inventive flavors.
A must-try dish at GAIA is the Moussaka. Forget any preconceived notions of a heavy and stodgy meal from inauthentic tavernas. GAIA's Moussaka is a delightful and fragrant Greek dish featuring minced meat delicately layered atop sliced aubergine, offering a delectable culinary experience.
For more such updates visit our official website
By: Vibha Kapoor