India Break Gold Medal Duck at Asian Games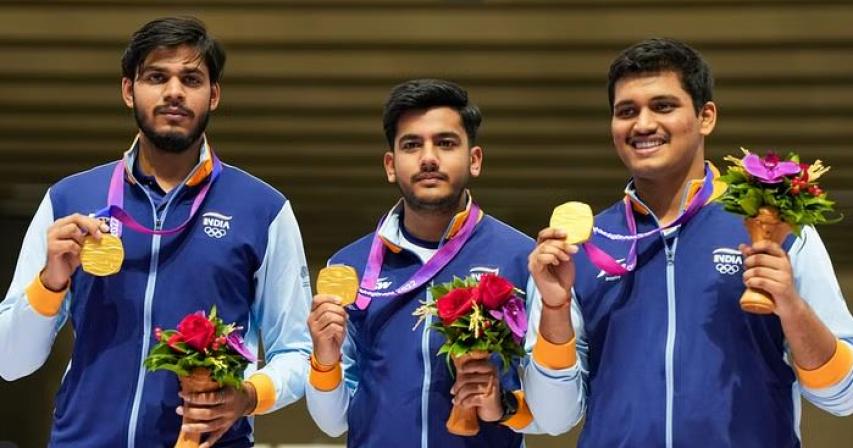 India won their first gold medals at the Asian Games on day two
India won their first gold medals at the Asian Games on day two, while China continued their dominance and North Korean shooters stirred up drama by snubbing their South Korean rivals on the podium.
Also Read:Milad-un-Nabi 2023: History and Date of the Prophet Muhammad's Birthday
India's first gold came in the men's 10m air rifle team event, with the team of Rudrankksh Patil, Aishwary Pratap Singh Tomar and Divyansh Singh Panwar setting a new world record in the process.
Their second gold came in women's cricket, with the team beating Sri Lanka by 19 runs in the final. It was India's first cricket gold at the Asian Games since the sport was introduced in 2010.
Bangladesh also won their first Asian Games medal in cricket since 2014, beating Pakistan in the bronze medal match.
China continued to lead the medals table at the end of day two, with 39 gold medals. South Korea and Japan are their closest competitors with 10 and 5 gold medals respectively.
China won gold medals on day two in artistic gymnastics, swimming, skateboarding, taekwondo, mountain biking, fencing, wushu, shooting and rowing.
However, they were upset in a few events, with Uzbekistan pipping them to gold in the men's four and women's single skulls in rowing.
Thailand also won their first gold medal of the Games in women's -49kg taekwondo, with Panipak Wongpattanakit beating local fighter Guo Qing in a tight and dramatic contest.
In the pool, Hong Kong's Siobhan Bernadette Haughey won gold in the women's 200m freestyle in a new Games record time.
However, the most contentious moment of the day came in the men's team shooting competition, where three North Korean marksmen refused to join their South Korean rivals in a group photo of medal winners after narrowly missing out on gold.
The North Koreans' decision to snub their rivals is likely to fuel tensions between the two countries, which are still technically at war.
For more such updates visit our official website
By: Vibha Kapoor