Guns N' Roses Coming to Perform in Abu Dhabi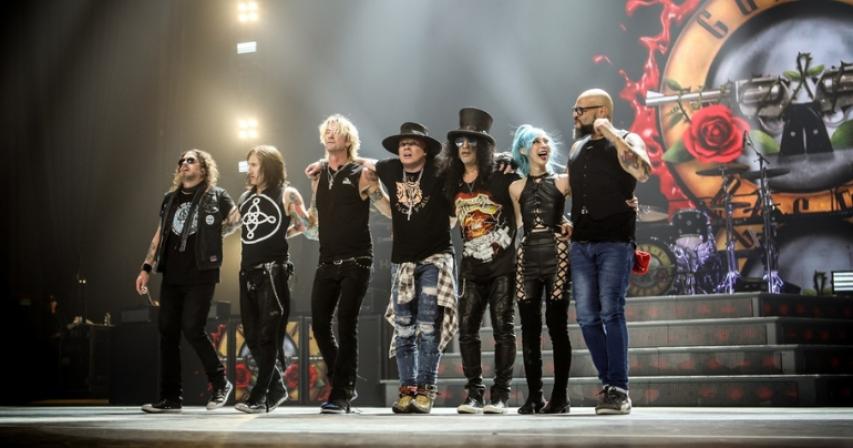 Guns N' Roses Coming to Perform in Abu Dhabi
US rock legends Guns N' Roses will perform in Abu Dhabi in June, marking their comeback to the UAE.
Four and a half years after their race-day performance at the Abu Dhabi Grand Prix, the group will begin the second leg of their world tour at Etihad Arena on June 1.
With the next leg of their tour taking place predominantly in stadiums across Europe and the US, Etihad Arena's 18,000 capacity will make it one of their most intimate shows of the year.
With no new album to promote, expect a set stacked with hits and the occasional power ballad.
If their last batch concerts in Australia in December are an insight into the band's recent performances, fans in Abu Dhabi can expect an extensive set averaging about 30 songs.
Included were the classics Welcome to the Jungle, Paradise City and You Could Be Mine, in addition to the group's famed covers of Live and Let Die by Wings and Bob Dylan's Knockin' on Heaven's Door.
Fans of guitarist Slash's former group Velvet Revolver should also look forward to a rollicking take of their hit Slither.
Featuring the classic line-up of frontman Axl Rose, guitarist Slashand bassist Duff McKagan, the band's latest incarnation only began performing together again in 2016 after an acrimonious split in 1993.
Following the split, Rose continued to tour under the Guns N' Roses name and released the 2008 album, Chinese Democracy.
Slash teamed up with McKagan to form Velvet Revolver, featuring the late frontman Scott Weiland. The group headlined the Desert Rock Festival in Dubai in 2008.
In 2013, Slash made a triumphant return to the United Arab Emirates to perform under his own name. At the Dubai Tennis Stadium, he put on a wild performance that included a surprise appearance by American shock-rocker Alice Cooper.
Source: The National

By: Fathima M