Why Beyond Meat is a trend you need to sink your teeth into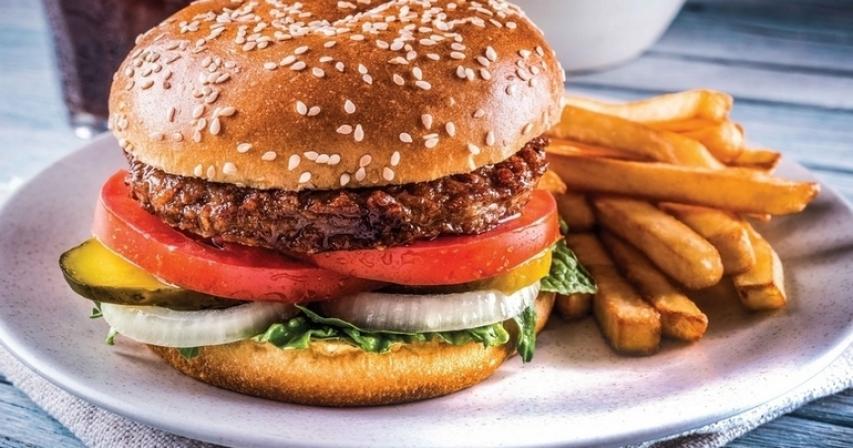 Plant-based meats' that promise to 'taste and satiate' just like the real thing are on the rise.
---
The patty is a sizzling golden brown and cooked to perfection. Sitting on a tender bun, topped with crunchy veggies and pickles and dripping with sauces, it's every foodie's dream come true. To the naked eye, it's almost impossible to tell that this burger contains no real beef.
Welcome to 2019, the year of the faux meats.
What is it?
It all began with Beyond Meat, a Los Angeles based company, which rolled out the first plant-based burger to be sold in the meat section of the grocery stores in 2016. What's so special about it? Unlike veggie burgers, the Beyond patty meat is designed to 'look, cook and satiate just like a fresh beef burger'. It's made of ingredients like yeast extract, coconut oil and pea proteins, and even has beetroot juice for that distinctive red tinge!

"When you think of meat in terms of its composition, it's five things - amino acids, lipids, trace minerals, vitamins and water," Beyond Meat founder Ethan Brown explains in an interview with Time. "None of that is exclusive to animals. Animals spend massive amounts of energy consuming plants to make protein. We start directly with the plant material [pea protein] and build from that." Which means their meat, dubbed 'Beyond Meat', is entirely cruelty-free.

This year, Beyond Meat made headlines again when the company announced they were going public and saw their stocks soar in an astonishing manner. But they aren't the only ones to see profit in plant-based diets. From Tyson Foods to Impossible Foods, other companies have jumped onto the bandwagon. Last month saw FIA Formula One World Champion Lewis Hamilton announce the launch of the world's first international plant-based burger chain, Neat Burger. It's only the beginning of a full-fledged, raging plant-based meat industry.

In the UAE, the Beyond Burger was launched last year through Bareburger, an international chain. "There was a lot of excitement across the vegan community when we announced that the product was going to be launched," says Fabrice Vriens, divisions manager, Bareburger. "Most non-vegans were very sceptical until they tried it."

So, how has the reaction been since? "Surprisingly, the Beyond Burger is one of our bestsellers now," says Fabrice. "It's very popular even with regular meat eaters, who are either on a specific diet or trying to reduce their meat intake, while satisfying that meat craving."
Why Beyond Meat?
On its website, Beyond Meat lists out four main reasons why it's important to 'build meat directly from plants': improving health, improving animal welfare (no more slaughter of animals), positively impacting climate change (by reducing greenhouse gas emissions created by livestock rearing) and, finally, addressing resource constraints (as animal production and livestock systems take up a lot of surface area).

No matter the reason, it's clear that veganism is booming globally. In the UAE, veganism was on an incline through 2017 and 2018, with the number of orders doubling within the year, according to restaurant aggregator and food delivery startup Zomato. "While the adoption of veganism stabilised in 2019, Beyond Meat foods have recently started seeing traction, with demand and supply increasing from month-to-month. Currently, 54 restaurants serve Beyond Meat foods on their menu, while, a year ago, the number was almost zero," says a Zomato representative.

Mayane Sarwat, marketing and brand manager of Flexi Kitchen, credits this to the fact that people are more conscious of what they eat. After all, veganism and vegetarianism aren't the only diets on the rise. Flexitarianism (a combination of the word 'flexible' and 'vegetarian'), encourages the consumption of mostly plant-based food while not completely cutting out meat. "The lifestyle is increasingly popular, as it allows people to cut down on meat while having the option to adapt their diet to their lifestyle, social life and health conditions," says Mayane.
. Mayane Sarwar of Flexi Kitchen Dubai

A 'virtual restaurant' that launched earlier this year to cater to flexitarians, Flexi Kitchen already has its own version of the Beyond Burger. It's no surprise that it's one of their most popular dishes. "Just like a beef burger, it can be grilled or cooked on a skillet on medium-high to high heat for three minutes per side," says Mayane. "Ingredients like coconut oil and potato starch ensure it has the juiciness of a traditional burger, while peas provide the protein. A lot of our customers could not tell it was not beef."
Making the switch
The first time UAE-based expat Max Marsh, a vegan and the founder of The Plant Code Podcast, bit into a Beyond Burger, he swears he almost spat it out. "The texture was exactly like meat. If you like the taste of meat, I'd recommend you try it. It tastes the same but you won't be contributing to the slaughter of animals or the destruction of our environment," he says.
Max Marsh of The Plant Code Podcast

The British national was always an animal lover and humanitarian (having volunteered in Peru and India after leaving high school). But somehow, he never considered bringing that compassion to his dining table. After watching documentaries like Forks Over Knives, Max started educating himself, and decided to reduce his consumption of meat. "Every month, I'd remove one animal product from my diet. It started with red meat, then white, then fish, eggs and finally cheese. I made many mistakes along with way but finally committed to it after six months," he says.

Today, the vegan 'junk food expert' claims the plant-based industry in Dubai is blowing up. "Today, any type of junk food can be made vegan, so there is no excuse for animal cruelty. From pizzas and vegan fish and chips, there are plenty of comfort food options. Also, fries remain the staple junk food for vegan foodies out there."

The Beyond Burger is just one more example. Interestingly, as Max puts it, Beyond Meat isn't really for vegans - it's more appealing to non-vegans and reducetarians (people who want to help the planet by giving up on meat and dairy). "If you've already been following a plant-based diet for a long time, then you aren't used to the texture or the heaviness of meat anymore, nor do you have the desire to consume something resembling an animal body part," says Max. "But these products are a great way for meat-eaters to transition towards plant-based diets without feeling like they are missing out. Vegans may be a minority, but products like Beyond Meat can help make veganism more mainstream and accessible."

When asked about why everyone should at least educate themselves on the benefits of a plant-based diet, Max cites the Amazon Rainforest fire as an example. He's not wrong - Brazil is the largest producer and exporter of beef in the world, and nearly 50 per cent of livestock there is raised in fields that used to be rainforests. Many of the wildfires there were lit by farmers trying to make way for more pastureland.

"If we want to leave our children with a liveable planet, moving to a plant-based diet is the best thing you can do," says Max. "We all have a duty to consider the way we consume food. We vote with our dollars so let's choose not to support industries that are destroying our planet."
Things to consider
While it's easy to assume that, because they are plant-based, Beyond Meat patties are automatically healthy, that may not be the case. While dieticians acknowledge the health benefits of cutting down on red meat, a Beyond Burger patty is still considered processed meat, with almost the same amount of calories, and a higher sodium content (point to note, though, it boasts no cholesterol and less saturated fat). It may be healthier than a traditional burger - but a Beyond Burger a day won't quite keep the doctor away. Instead, sticking to fresh fruits and veggies may be key.
Food blogger Sana Chikhalia

Dubai-based food blogger Sana Chikhalia first tried the Beyond Burger when travelling in Finland. The UAE resident was on the lookout for halal options and the Beyond Burger was a perfect fit. So, how does it stack up when compared to real meat? "There is a slight difference," she muses. "If you don't know that it's faux meat, you might not notice at all, especially with the right vegetables and sauces. I think it all depends on your mind frame - if you believe it's not going to be good, then you might not like it. But, if you keep an open mind, there's a good chance you can make the shift to vegetarianism."

A self-confessed meat lover, Sana says the Beyond Burger isn't enough to convince her to give it up - something she credits to dietary reasons and her social circle. But it does have promise. "The trend is still very new," she says. "You have to give it a little bit of time to get better."
That isn't to say that all non-vegetarians have the same opinion. UAE-resident and foodie Thomas (name changed) claims that the taste is easily distinguishable from real meat, and the marketing and advertising of the product may be setting it up for failure. "Brands keep saying 'you won't be able to tell the difference' and that just leads to disappointment for those who know the real taste of beef," he says. "I think that's pretty sad because, if consumers hadn't been told that, we'd realise that it's a pretty good burger on its own."