Pin Click to host the 1st edition of UpperCrust on 15th August: Focus on GCC & India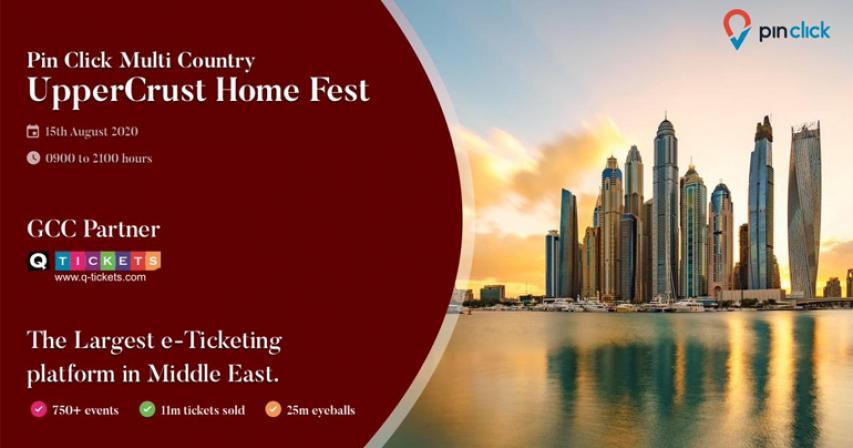 Pin Click, a real estate advisory firm with presence in Bangalore, Pune, Mumbai & Delhi, is hosting its 1st edition of UpperCrust – the curated virtual property exp, on 15th August 2020. The expo will host 8-10 real estate developers with residential portfolio across Chennai, Kolkata, Bangalore, Mumbai, Thane, Pune, Gurgaon, Ludhiana and Mohali.

Pin Click has associated with Q Tickets as GCC Partner. Q Tickets is the largest e-ticketing platform in Middle East with an average eye balls of 2M users every month with presence in countries like Qatar, UAE, Bahrain and Oman.

Historically mostly event management companies have managed the expos with physical infrastructure and with focus on attendance. These expos have also had developers & buyers across price range, leading to a very disconnected experience for both parties. However through UpperCrust, we are looking to bring an immersive experience through a virtual reality driven product while at the same time curate the entire event to take care of both customers and developers interests says Manik Kinra, Co Founder – Pin Click.

The first edition of UpperCrust will have marquee developers like Lodha, Rustomjee, Brigade, Hero Homes & VTP amongst others.

We have had a long term fruitful business relationship with Pin Click and are happy to partner with them for this new initiative especially during these difficult times when there's a lot of impetus towards the digitization of the sales process in Real Estate says Mr Viswa Prathap Desu, Chief Sales Officer at Brigade Enterprises.

About Pin Click
We are a ZERO brokerage platform with a mission to simplify the home search. We pride ourselves in our technology, people and process enabled solutions to help customers search, view and move into their Dream home. As Marketing Partners to top developers in Bengaluru, Pune, Gurgaon and Mumbai we have supported over 1500 customers in finding their Dream homes since 2013. Our Team of property advisors help customers through the journey of buying a home - right from sharing property details, face to face or video conference driven discussions, site visits to shortlisted projects, inventory support and best price possible.