NBA Abu Dhabi Games can inspire region's next superstar- Salah Mejri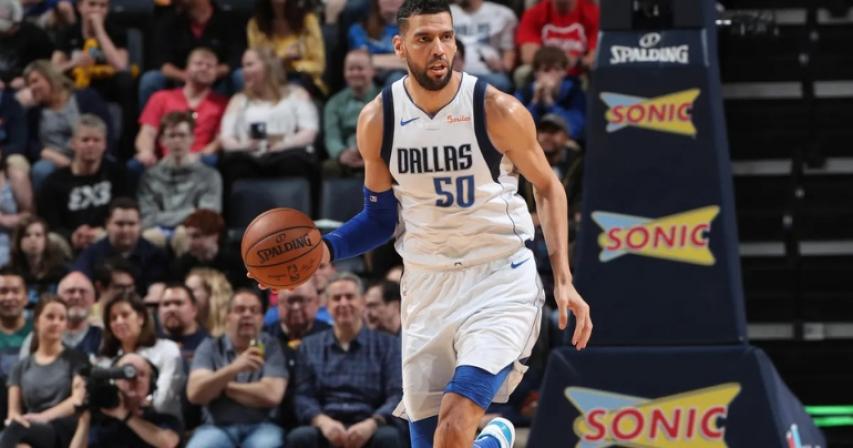 Tunisian basketball star Salah Mejri made it to the NBA the hard way – first facing LeBron James and Co as a 29-year-old rookie.
Tunisian basketball star Salah Mejri made it to the NBA the hard way – first facing LeBron James and Co as a 29-year-old rookie.
Now the 7ft 2in centre is hoping he can inspire an easier route to the sport's best league for the Mena region's most talented young players.
Mejri, 36, the only Tunisian to reach the NBA, played four seasons with the Dallas Mavericks alongside legendary German forward Dirk Nowitzki and later young Slovenian star Luka Doncic.
The NBA will return to Abu Dhabi in October for two pre-season games between the Dallas Mavericks and Minnesota Timberwolves on October 5 and 7, following last season's successful visit.
The NBA said 120 international players from 40 countries and six continents began the 2022/23 season on its rosters.
But only Egyptian forward Abdel Nader represented a country from the Mena region, playing a role off the bench for Kevin Durant's Phoenix Suns.
And as the best-of-seven NBA Finals between the Denver Nuggets and the Miami Heat gets under way, Mejri said the NBA Abu Dhabi Games could provide the perfect catalyst for more future Mena stars to reach the sport's top level.
He has helped run camps for young players in countries around the region to spot potential talent that could be attractive to US scouts.
"The NBA is coming to Abu Dhabi," Mejri told The National. "It's great [for the region]. When you get good coverage of basketball, people will like it more.
"We've been working with the NBA doing camps with scouts and coaches in the region. I've been running camps in Tunisia, my country of course. We did it in Egypt, we did it in Lebanon, we're trying to do it in Bahrain. Some are doing the same in the UAE.
"I played in Mexico and China when I was with Dallas. It is a very good promotion for the NBA, and for basketball in general.
"And Dallas is coming [to Abu Dhabi]. I'm going for sure to watch my ex-teammates."
Mejri entered the NBA at 29 after a dominant career in Europe that was capped off with a EuroLeague title with basketball powerhouse Real Madrid.
For the Mavericks, he provided athleticism, interior defence and a veteran presence off the bench, averaging 3.4 points and 4 rebounds from 2015 to 2019.
He said he hoped to pave the way for talented young players from the region to earn scholarships at US high schools and colleges – rather than follow his unlikely path.
"Of course, being only the only NBA player in the region, it pushed a lot of kids to go and play basketball," he said.
"I'm not going to lie to you and say it's easy now. But since I left the NBA, a lot of people have crossed my path in the street and said 'my kid is playing basketball because of you'.
"It's an honour for me and a great, great feeling, being the first [Tunisian] to play in the NBA. But at the same time, there was huge pressure for me to do well and create a good image for my country and Arab countries in the Middle East and North Africa."
Mejri played last season with Kuwait's Kazma a season after winning a title in Lebanon with Beirut Club.
He said he feels he could still contribute to an NBA team given the chance – but hasn't ruled out hanging up his basketball trainers once and for all.
"I always have that fire and I always ask why I'm not there," he said. "Obviously the opportunity is not there anymore. It's hard to get out of the NBA and get back to it, especially with age. But yes, I am watching these guys and I think I could be there.
"I got some calls from Europe last year. But I'm not sure if my body will handle it. So I think I'll go back to the Middle East. Maybe I'll stop playing if there are no good opportunities for me.
"I think I did good [in the NBA]. You know, I tried to stay as long as possible. In the NBA to get there is difficult, but stay there is even more difficult. I tried to stay as long as I can. And thanks to the people who showed me the way, I think I did. I think I did good."His time in the NBA saw him in direct competition with Denver Nuggets' star centre Nicola Jokic, who has led his team to its first NBA Finals while averaging an incredible 30 points, 13 rebounds and 10 assists per game.
On the other side, dynamic 33-year-old forward Jimmy Butler has led an improbable finals run by Miami, who were seeded eighth in the Easter Conference.
And Mejri said while the Nuggets have the best player and the best team, the Heat may pull off yet another play-off upset.
"Jokic's game is different," he said. "You see [stars like] Devin Booker [of the Phoenix Suns] and Jayson Tatum [of the Boston Celtics] and they are not very different. They can drive, they can shoot, they can jump and they can play some defence.
"But you don't see anybody playing like Jokic. The guy doesn't jump at all. But the guy can pass, he can play. He is a playmaker.
"They have been doing great the last three or four seasons, but they just been not lucky enough to win the whole thing.
"I think this year, they have a great chance – but I would not put my money on them. Miami has the tradition of winning, like Real Madrid in football, they win because they have that tradition.
"I think Miami has that. Individually, they don't have anybody who can match Jokic. OK, Jimmy Butler is great. But he's not Jokic. If you see them player by player, I think Denver has a better team. But then that factor of winning mentality, their coaches and players know how to win, for sure. They know how to win. So it's going to be tough to tell."
By: Gurmeet Singh