UAE & US Presidents Prioritize Regional Stability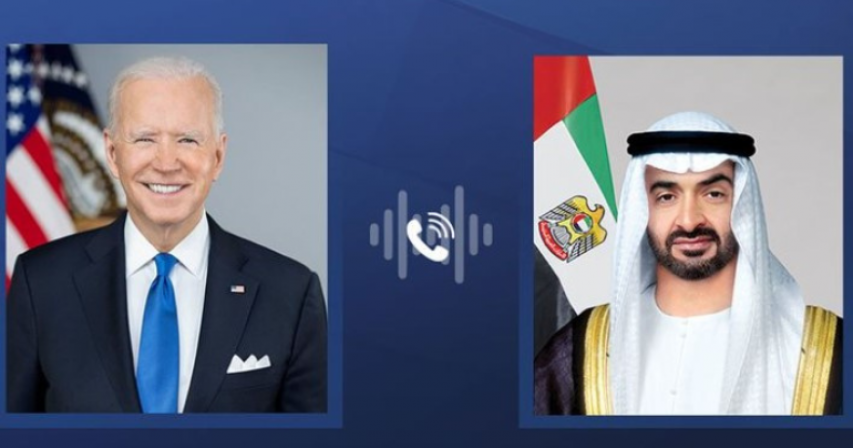 UAE and US presidents prioritize civilian protection
UAE and US Presidents Emphasize Protection of Civilians and Discuss Regional Developments
President His Highness Sheikh Mohamed bin Zayed Al Nahyan of the United Arab Emirates (UAE) and US President Joe Biden recently engaged in a phone call to address regional developments and tackle the current situation marked by escalating violence, posing a significant threat to the security and stability of the region.
One of the primary emphases of their discussion was the critical need to prioritize the protection of civilians in the region, particularly in conflict zones. Both leaders recognized the importance of establishing safe corridors to facilitate the delivery of humanitarian aid to those in need, ensuring the well-being and safety of the affected population.
Additionally, Sheikh Mohamed and President Biden emphasized the significance of coordination among regional and international stakeholders. They stressed the collective call for restraint and immediate de-escalation of the ongoing tensions. It was evident in their conversation that both leaders were committed to fostering an environment conducive to peace, stability, and security in the Middle East.
President Sheikh Mohamed and President Biden also took the opportunity to review the close and longstanding strategic partnership and friendship between the UAE and the United States. Their discussion extended to exploring opportunities for further development of their bilateral ties across various domains, including diplomatic, economic, and security cooperation.
As the situation in the region remains tense and complex, the phone call between the two leaders underscores the shared commitment to safeguarding the well-being of civilians, providing humanitarian assistance, and promoting stability. It also reinforces the enduring partnership between the UAE and the US, highlighting their joint efforts to address regional challenges and seize opportunities for collaboration in the pursuit of common goals.
For More Related News Please Visit Our Official Website
By- Sahiba Suri
By: Sahiba Suri