Our choice: Five masala dosas to try in Dubai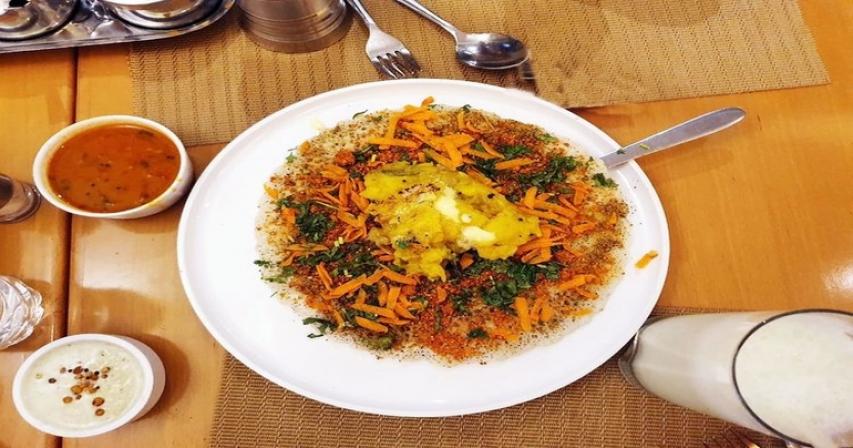 It's a crowded world full of spiced and simmering lentils, large wraps and – sometimes chunky - chutneys. I dare you not to drool when you enter a dosa parlor (which is what I'm calling it) in India. The great moves – from North to South, East to West, and a slew of other directions - has meant a mutation of flavors that suits each taste bud it encounters. And travel abroad has not bruised the chomping experience either.
When last week we headed out to suss out Dubai's versions of the old favorite, it seemed like mission impossible; around each bend of brick lay another, hospitable plate with the lentil rice mix that had been fermented and fluffed on a large iron board that doubled up as cooker.
While the experience may seem muffled to the aficionados – so many varieties lie in wait for the experimental eater – we've listed a few that we are already prepping to return for.
Karandi's, Karama
One could argue that it's difficult to wreck a simple potato masala dosa. And that one would be wrong. It's a balancing act between potatoes, curry leaves, onions and a sprinkling of lentils, and a little more of one or a little less of the other can turn the happy moment into a very unhappy one. At Karandi's, in Karama, fortunately, the balance is maintained and a hot spicy tomato-based chutney only enhances the flavor. Follow our lead and order a filter coffee for the complete experience. Total damage to the wallet: Dh11.
Shri Krishna Bhavan, Karama
Next up, in Karama again, we headed to Shri Krishna Bhavan. If you are looking for more varieties than you can possibly sample in one sitting – this really is the place to go. The Gongura Dosa, which is layered with a paste made with gongura leaves and red chili, is a tart treat. If you like to smack your lips to a tangy flavor, this Dh13 dosa has you covered. Another thing we really loved was the Open Dosa (Dh16), which is a deconstructed take on the classic and with a dab of butter.
Mami's Illam, Discovery Gardens
Head over to the other side of town and to a small place called Mami's Illam in Discovery Gardens and get ready for the Mami special (Dh12). A 'house-only' paste with tomato, onion and other things nice – the secret lies in the undisclosed ingredients – is slathered generously onto the fermented dosa paste. The result is a sandwich of sorts - and a lovely breakfast opportunity.
Hari Prasad Pure Veg Restaurant
A few doors down from Mami's is Hari Prasad Pure Veg Restaurant, which is known for its neer – rice paste and lots and lots of coconut – variety. This is –literally- a soft option. I much prefer the masala dosa, with a giant dollop of coconut chutney (Dh13).
Bikanervala, in JLT
Another masala dosa experience is available at Bikanervala, in JLT, for Dh 14. The crispness of the offering is a legend; the taste is classic. But to up your game here, you need a partner in crime who will eat another Bikaner-favourite, aloo-puri. Dip your dosa into the chutney that comes with the Punjabi favorite and your taste-buds will be thanking you all day long.
Let the dosa journey continue – are there any places that you'd like us to try? Write into us at readers@gulfnews.com and tag us on your dosa adventures on Instagram.
Hot Dosas: Our list of 5 top places to try them in Dubai
UAE dosa lovers can find scrumptious treats ranging from the classic plain to Omani chips
---
It can be crispy and brown or white and fluffy. It can be dipped into a spicy lentil gravy or garnished with some mint chutney.
For some, it is comfort food and for others, it is an indulgence.
Either way, dosas seem to be a favorite snack of UAE residents. And so at Gulf News, we headed out to discover different types of dosas while - and this is important - satiating our palettes.
What is dosa?
It can look similar to a crepe. The batter, however, is vastly different. Dosa batter is made of rice and urad daal (split and dehusked black gram lentil). A certain proportion of the two is mixed together to make the batter - usually, it's four measures of rice and two measures of daal. This is soaked in water for eight hours straight. Once the grains become soft, they are run into a stone grinder to be made into a paste. The batter itself is left to ferment for eight to ten hours – depending on the season. [In summer, fermentation is quicker; in winter, the process takes a bit longer.] You know the batter is fermented when it puffs up inside the utensil.
The grinder
Just as mankind has seen an evolution of times – food has witnessed a change too. And so have the tools used to make it. The dosa grinder, I can say from experience, has become more user-friendly and easy on the arms.
My childhood was spent watching my mother grinding the lentils into a paste with her hands. A wet grinder was traditionally manual. It consisted of grinding stone with a hollow base where the grains would be poured into. A certain amount of water would be added to this hollow pot. A rotator made of stone was placed on the stone to grind the grains into a paste. This is a very elaborate affair; it typically took about two hours to prepare the paste needed.
These days, it's much less stressful. Electric wet grinders have replaced the traditional stone.
The dosa
A classic dosa is plain or with 'masala' devoid of any other ingredients besides the black gram daal and rice. The masala dosa comes with a ball of potato paste placed in the dosa's center during the preparation. The wrap is served with lentil gravy and chutney. But as people from different states mixed and mingled over the years and cuisine were tapped and tweaked, the way of making, ingredients and types have undergone a diversification process. Today, you can easily find keema dosas, paneer dosas, mushroom dosas, zini dosa, and an Oman chips dosa - only for Gulf residents.
Don't miss
Neer dosa (Dh12), benne dosa (Dh11) at Hari Prasad Pure Vegetarian Restaurant
Neer dosa literally means water dosa in Tulu language. The crepe is made of a rice batter and is typical of Mangalorean cuisine. Benne, on the other hand, is butter and as the name suggests this dosa is served with a generous serving of butter. Both are served with chutney and lentil gravy. The sambar or the lentil gravy is a tad sweet and those who like their spice levels to below would love this. You can always ask for a spicy chutney to compensate for this if you are a spice lover. The staff are very friendly, they will never say no.
Classic plain dosa (Dh12.75) at Mavalli Tiffin Room (MTR)
We also tried a snack at the ever so popular Mavalli Tiffin Room (MTR) in Bur Dubai. I took a dig at their plain dosa (Dh12.75) and it was marvelous. Personally, I am a fan of a classic plain dosa always. Added to this their sambar and chutney, which had the right amount of spice levels for my palette.
Zini dosa (Dh28), Omani chips dosa (Dh25) and Paneer Manchurian dosa (Dh28) at Yummy Dosa
For those who think out of the box and like to beat the norm when it comes to eating a classic dish try the dosas at Yummy dosa restaurant.
Don't miss their zini dosa (Dh28). It is served as a platter of sushi. There is a rich serving of grated cheese topping and a red-based sauce with veggies. It is a complete dish in itself what with the generous serving of cheese and vegetables.
Their Omani chips dosa (Dh25) is a whole different take to what traditionally dosa has been. Like me, if you have grown up in the UAE, you understand the importance of Oman chips cheese and tobasco, and when someone gives it a twist with a dosa crepe, it takes fusion to an all-new level. Don't miss this it will bring a flood of childhood memories for some.
Other recommendations
Peas masala dosa (Dh11.25), cauliflower masala dosa (Dh11.25), Palak (spinach) dosa (Dh11.25) at Saravanaa Bhavan.
Ghee masala dosa (Dh15) at Sangeetha vegetarian restaurant. Ghee is nothing but clarified butter and this one tastes great here. My personal favorite is the Podi dosa (Dh12.50) as it takes me back to my childhood. Podi is a special spicy powder sprinkled on the dosa. For added taste, a spoon of gingery oil to the powder does wonders.
There are other options here Onion dosa (Dh12), Rava dosa – made of semolina (Dh12.50), Paperroast (Dh19). Or even the Uthappam versions – like Tomato uthappam, onion uthappam and others.
/ Source: GulfNews