5 Extremely Fun Things You NEED To Do In Dubai's Majestic Deserts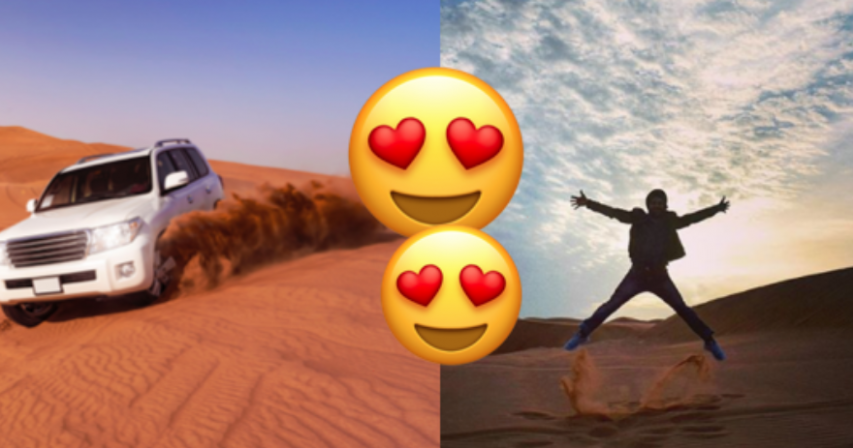 What To Do In Dubai Today
What To Do In Dubai Today
Whoever says or thinks that living in the desert is just boring and unadventurous is outright WRONG.
The golden sands, the free-roaming camels and jaw-dropping views prove that Dubai has one of the most beautiful deserts in the world.
Without further or due, here are five things you actually need to start doing in Dubai's deserts because they are so fun.
1. Desert Safari
This one is quite obvious, many tourists flock to the city's desert to truly experience the bedouin culture of the Emirates.
Embarking on a cultural adventure, any desert safari will pump some adrenaline into your veins after rocking you on the sand dunes until you reach your final destination on the adventurous route.
2. Sand-boarding
Just as the name suggests...think of snowboarding but switch the snow with some sand and you've got the art of sand-boarding.
This fun activity is not only a workout but it is also so much fun! It's so simple, just climb up a steep sand dune, get on your board and slide down.
3. Desert camping
For all those who dare to spend a night outside of your comfy homes, you might want to challenge yourself to a true night of sand living.
Grab your camping gear and head to one of Dubai's many camping spots to enjoy a fun night out by the bonfire and under the stars with your loved ones.
4. Quad biking
Another popular desert activity is renting out quad bikes and hitting Dubai's sand dunes.
You can just drive outside the city and stop by any of the quad bike rentals, grab some bikes with your friends and just enjoy. It's really that simple.
Just make sure you don't venture out too far in the desert otherwise you might get lost!
5. Enjoy the quiet
The desert seems never-ending in places, and its gentle dunes and soft hues will have you feeling at one with nature. It's a great place to get away from the noise and hustle-bustle of the city and just enjoy.
/ Source: Lovin Dubai