Apple gets tougher, longer lasting with new iPhone 11 Pro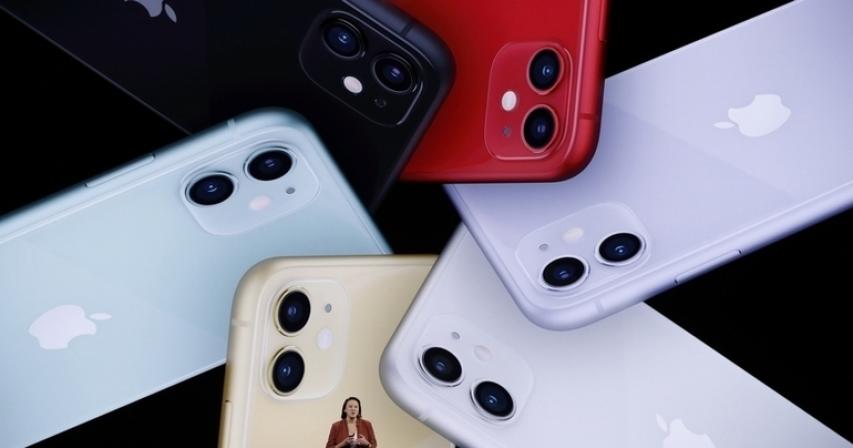 Successor to already affordable iPhone XR, the iPhone 11, is now even more affordable.
---
Apple on Tuesday, as widely expected, introduced three new iPhones, and even with no 5G version, the newest upgrades are enticing.
The tech giant revealed the flagship iPhone 11 Pro and 11 Pro Max. This is the first time the 'Pro' tag has been used for an iPhone; it has been more known on Apple's other high-end products, including the Mac, iMac and iPad.
"We've always believed that giving people wonderful tools will enable them to do wonderful things," Apple CEO said at the keynote at the Steve Jobs Theater in Apple Park in Cupertino, California.
"We put the customer at the centre of everything we do, with products and technologies that are designed in the service of humanity."
Apple promises the best iPhone experience ever on the iPhone 11 Pro. For the first time on an iPhone, triple-lens camera systems have been included, allowing the company to catch up with the rest of the field in a smartphone industry increasingly strengthening camera offerings. A new ultra-wide-angle lens promises up to four times more of the scene of a shot.
Batteries have also received significant bump-ups: Apple promises four and five hours more battery life on the 11 Pro and 11 Pro Max, respectively, compared to their predecessors, the XS and XS Max.
Apple also promised a tougher iPhone with the 11 Pro, having run through several stress tests, pushing the capabilities of the line to its limits.
It also comes with the new A13 Bionic chip, Apple's latest proprietary processor that has been optimised for enhanced machine learning and low-power performance.
Both flagships will come in 64GB, 256GB and 512GB storage options; respectively, prices for the iPhone 11 Pro are Dh4,219, Dh4,849 and Dh5,699, while the iPhone 11 Pro Max will be at Dh4,639, Dh5,269 and Dh6,119. Apple maintained the entry-level price for the third year.
Apple also introduced the successor to its highly-acclaimed entry-level device, the iPhone 11. The replacement to the XR also comes with the A13 Bionic chip, and its camera system has been boosted to two lenses.
More importantly, the device - already considered affordable - had its price lowered further: The iPhone 11 now starts at Dh2,949 (64GB), then increments to Dh3,159 (128GB) and Dh3,579 (256GB).
Expectations for this year's keynote at the Steve Jobs Theater at the sprawling Apple Park in Cupertino, California, were tempered down as soon as rumours started swirling that the tech giant would not launch a 5G device.
Speculation in the past year initially pointed to a 5G iPhone launch this year. But Apple hit some snags - most notably its dispute with Qualcomm - which was deemed as one of the reasons for the shelving of the 5G devices for now.
However, Apple made a solid move in July, acquiring a majority of Intel's modem chip business for $1 billion, paving the way for independent manufacturing of its own 5G processors.
CEO Tim Cook, nonetheless, was as ecstatic as ever, promising new, unique experiences with the new devices.
New Watch, iPad
Apple also unveiled Apple Watch Series 5, maintaining its build but upgrading its materials and ramping up its software and capabilities.
The biggest addition is the new always-on display; despite that, Apple promises that battery life will be maintained at 18 hours.
"We've seen Apple Watch have a meaningful impact on our customers' lives and we're excited to deliver even more capabilities with Apple Watch Series 5 and watchOS 6," said Jeff Williams, Apple's chief operating officer
"The seamless integration of new hardware and software delivers an enhanced experience that makes it even easier to stay active and connected to the people and information users care about."
Apple also added a compass function, plus an international emergency calling feature for the cellular version. The latest watchOS 6 software comes with new features, including a cycle tracking app for women. A new case made of titanium was also introduced.
The GPS version of the Series 5 wearable is at Dh1,599, while cellular option is at Dh1,999. They are now available for order from today in select regions; shipping starts on September 20. New variants for Apple Watch Nike, Hermes and Edition were also released.
The company also lowered prices for Apple Watch Series 3; the GPS version now starts at Dh799 while the cellular option begins at Dh1,199.
Apple also unveiled a new-generation, 10.2-inch iPad that will take further advantage of the recently-released iPadOS.
The newest tablet will support the Apple Pencil and comes with improved cameras and sensors, plus all-day battery life.
"The new iPad packs even more value into our most popular and affordable iPad model," said Greg Joswiak, Apple's vice-president of product marketing.
"The new iPad was built to run iPadOS, which introduces powerful new ways to multitask, manage and mark up documents, use Apple Pencil and view more information at a glance on a redesigned home screen. making it even better for creating, learning, working and playing."
The device is now available for order. Prices for the Wi-Fi version are Dh1,349 (32GB) and Dh1,719 (128GB). Wi-Fi); for the cellular option, prices are Dh1,879 and Dh2,249. It will in shelves on September 30.
Services
Apple's services segment has been a key anchor for the company in recent memory, and they're ready to boost the company's bottom line further.
Apple also announced that its video subscription service, Apple TV+ will begin airing on November 1. It will be available on the Apple TV app and a monthly subscription is at Dh19.99.
The company also dropped the trailer of See, which stars Aquaman lead Jason Momoa, at the event. Other originals will start flowing in as Apple bids to go toe-to-toe with the likes of Netflix in the expanding industry.
Pricing for Apple's game subscription service, Apple Arcade, was also announced. It will be available on the App Store on September 19 with the upcoming iOS 13.
The service - also for Dh19.99 a month - comes with over 100 exclusive games that are playable across the iPhone, iPad, Mac, iPod Touch and Apple TV.
"A curated selection of over 100 new and exclusive games from many of the most innovative game developers in the world is the perfect complement to the App Store's existing massive catalogue of games," said Phil Schiller, Apple's senior vice-president of worldwide marketing.
"We think customers of all ages are going to be delighted that a single subscription gives the whole family unlimited access to the full catalogue of amazing Apple Arcade games, all without any ads or additional purchases, while knowing every game must meet Apple's high privacy standards."
Arcade will be available also on September 19 along with iOS 13, and on September 30 on iPadOS and tvOS 13, and in October on macOS Catalina.
Also, Apple, for the first time, streamed its iPhone launch event on YouTube.
/ Source: KhaleejTimes