Asia Innovation Excellence Awards Recognizes Dr. Tejinder Singh for Innovation Leadership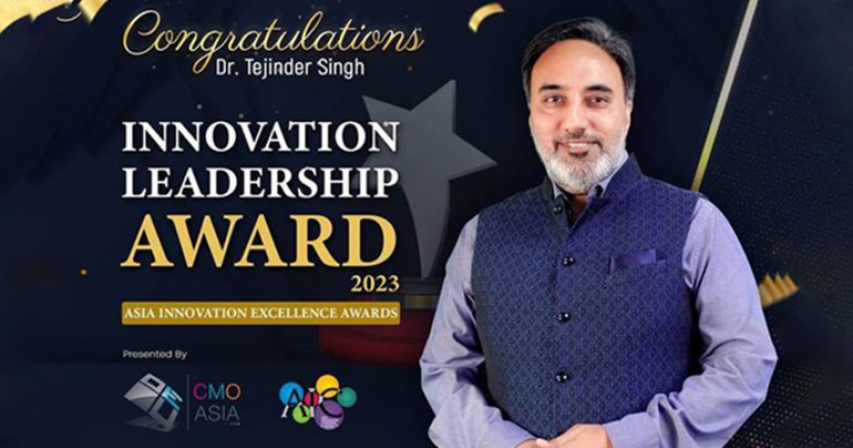 Dr. Tejinder Singh honored with Innovation Leadership Award.
Innovation Leadership Award Bestowed Upon Dr. Tejinder Singh at the Asia Innovation Excellence Awards
In an exciting development reverberating across the innovation landscape, Dr. Tejinder Singh, Chairman of a 360 Nautica Tech Venture, has been honored with the coveted Innovation Leadership Award at the prestigious Asia Innovation Excellence Awards.
This recognition stands as a testament to the profound impact of Dr. Singh's innovative endeavors.
The Asia Innovation Excellence Awards are endorsed by reputable entities, including the World Innovation Congress & Awards™️, The Business Leader of the Year™️ (Asia), and World Sustainability™️. These awards hold a magnifying glass over leaders and organizations that have demonstrated exceptional dedication to innovation.
The rigorous evaluation process considered a multifaceted criteria set, encompassing aspects like strategic vision, forward-looking orientation, an impressive track record, commitment to ethical innovation, and the ability to sustain impactful change, among others.
Dr. Tejinder Singh's selection for this prestigious honor came after a meticulous review by an independent jury comprising influential figures from around the globe.
The esteemed panel included luminaries such as Dr. Arun Arora, former President & CEO of The Economic Times and Chairman of Edvance Pre-schools Pvt. Ltd.; Professor Indira Parikh, a beacon in India's HR realm; Nina E. Woodard, President & Chief "N" Sights Officer of Nina E. Woodard & Associates; Dr. C. M. Dwivedi, Group Chief Human Resource Officer at ESDS Software Solution Pvt. Ltd.; Dr. R L Bhatia, Founder of World CSR Day and World CSR Congress; Dr. Saugata Mitra, Managing Director of the National Dairy Development Board Dairy Services; and Dr. Sanjay Muthal, Executive Director of Kontempore Leadership & Business Solutions.
The Asia Innovation Excellence Awards, organized by CMO ASIA AWARDS, bring together top-notch marketers, brand custodians, advertising experts, and creative maestros under one roof. These awards recognize industry professionals who have left an indelible mark on the fields of branding and marketing.
This recognition is not just a personal triumph for Dr. Tejinder Singh but a testament to the enduring spirit of innovation that pushes boundaries and inspires others. His leadership is a beacon lighting the way to new horizons, and this award signifies a collective acknowledgment of his commitment to innovation and excellence.

By: Sahiba Suri