A masterpiece by the renowned artist Pablo Picasso is currently on display at Sotheby's Dubai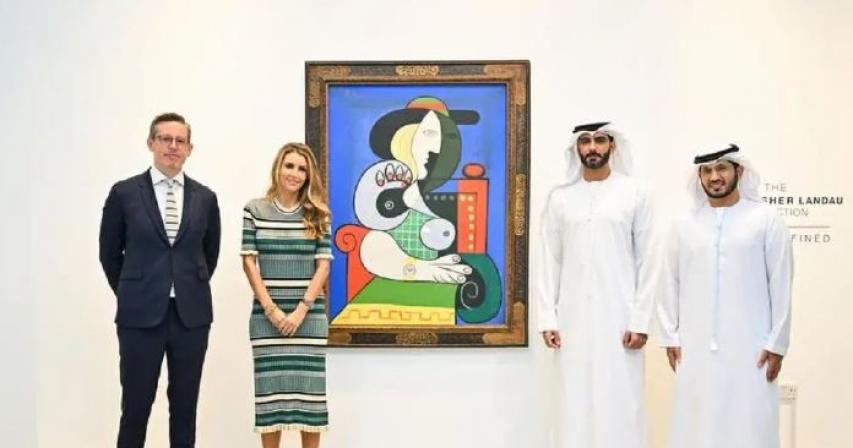 Picasso masterpiece to fetch over $120 million at auction
A stunning masterpiece by Pablo Picasso is expected to fetch over $120 million at auction in November, Sotheby's has announced. The painting, titled "Femme a la montre," depicts Picasso's lover Marie-Thérèse Walter, who featured in many of his portraits and is often referred to as the Spanish painter's "golden muse."
To Know More Visit: Just Dubai Social
The artwork, which measures 130 x 96.5 centimeters, will be the focal point of a two-day auction event at Sotheby's in New York, featuring artworks from the late New Yorker Emily Fisher Landau's renowned art collection. The auction is coinciding with the 50th anniversary since Picasso's death.
"The world record at auction for Picasso, which was achieved in 2015, is $179 million," said Julian Dawes, Head of Impressionist & Modern Art in New York for Sotheby's. "I think this auction has all the potential in the world to exceed that."
The painting is considered to be one of Picasso's most important works from the 1930s. It was created during a period of great personal and artistic turmoil for the artist, as he was struggling to come to terms with the end of his relationship with his first wife, Olga Khokhlova, and the beginning of his new relationship with Walter.
"Femme a la montre" is a powerful and moving portrait of Walter, who was Picasso's muse and inspiration for many years. The painting is also a testament to Picasso's mastery of color and form.
The auction of "Femme a la montre" is expected to be one of the most anticipated art events of the year. It is a rare opportunity to acquire a masterpiece by one of the most celebrated artists of the 20th century.
For more Updates Follow us on Just Dubai Insta
By: Vibha Kapoor