Mammootty weighs in on GoT bloopers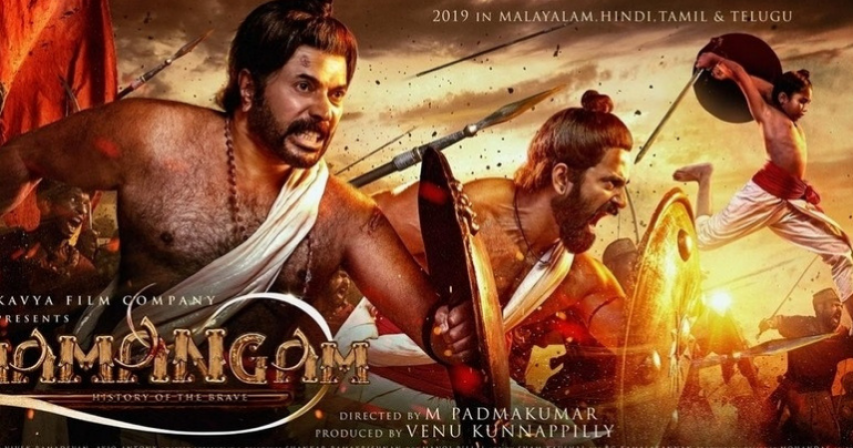 The first look poster of Mammootty's period drama, Mamangam that is set to release by the end of the year
Was the coffee cup left in the fourth episode of the final season of Game of Thrones a deliberate ploy by the makers to grab more eyeballs? How could a series that boasts a budget running into millions, which no doubt has a team of executives who are paid to ensure such 'modern amenities' don't enter the frame of the drama set in a fictional land far far away, make such a blooper?
The grand finale of the fantasy thriller that aired last month, is seen as the most divisive of them all, propelling many hardcore fans to demand a reshoot. While most were busy discussing the anti-climactic episode, a couple of eagle eyed-viewers noted another blooper in the form of water bottles peeking from behind Samwell Tarly and Ser Davos' legs in scenes filmed at Dragonpit.
"It is, of course, carelessness," Southern superstar Mammootty told City Times when we caught up with the actor recently on the sets of his period drama, Mamangam in Kochi, India. "Or it might have been left there deliberately to create a controversy."
The veteran actor, in his four-decade-long association with the Malayalam film industry, has no doubt seen it all. He confides how during certain movie shoots, wrong things are leaked, including scenes, which are not even part of the movie.
"These things do happen. Negatives will be created; they will leak your scenes deliberately to create news," he continues. "Sometimes they will even leak wrong things which are not there in the movie itself."
"Whether this (the GoT bloopers) was deliberate or mere carelessness...," he leaves it to our imagination. "You know these things can be digitally erased, don't you?"
While the Madhura Raja star is not a huge fan of Game of Thrones, despite watching a couple of earlier episodes, he tells us he is looking forward to the next season of the Netflix series The Crown. "Now THAT is the way history is brought in," he says enthusiastically. "GoT is fiction. The Crown is reality". When asked how he manages to find time in between his busy shooting schedule (he is after all one of the reigning superstars of the Malayalam film industry who at the age of 67, boasts back-to-back releases), he brushes it off in characteristic Mammootty fashion; "What else do I do?"
Mammootty will next be seen in Unda, an action comedy which sees him play the role of a sub inspector on election duty in Chhattisgarh. The three-time National Award winner recently wrapped the shoot for one of the most ambitious movies of his career, Mamangam, based on an ancient religious festival that was held every 12 years on the banks of the Bharatapuzha. Set in 1695, the multilingual movie, directed by M. Padmakumar - which will be released in the last quarter of 2019 in Malayalam, Tamil, Telugu and Hindi - is reportedly one of the most expensive movies to come out of the Malayalam film industry.
Mamangam: An Epic Drama
The first look poster of multilingual period drama Mamangam is out and Southern superstar Mammootty is at his fierce best in the movie set in 1695. The actor, is of course, no novice to period dramas - his Oru Vadakkan Veeragatha and Pazhassi Raja were blockbusters that are still being talked about by cinephiles.
Mamangam, directed by M.Padmakumar (Vaastavam, Joseph) and produced by Venu Kunnappilly, is no doubt among the most ambitious projects of the actor, who at 67, is among the rare breed of actors who can push through a film on his own steam at the box office. The movie is based on the religious festival, Mamangam, that took place every 12 years in a place called Thirunavaya, on the banks of the Bharatapuzha, for over 280 years.
While not much has been revealed about the plot, Mammootty reportedly plays a mysterious character, who takes on different guises and goes on to play an important role in Mamangam. Central to the theme of the movie, is the ancient Indian marital art form of Kalaripayattu which will be shown in all its glory in scenes choreographed by Shyam Kaushal of Dangal and Goliyon Ki Rasleela Ram-Leela fame.
Mamangam, which also stars Achutan, Sudev Nair, Sidhique, Unni Mukundan, Suresh Krishna and Manikkuttan is expected to release in Malayalam, Hindi, Tamil and Telugu, by the last quarter of 2019.