Excitement Peaks as MotoGP - Grand Prix of Qatar 2022 Kickstarts on March 4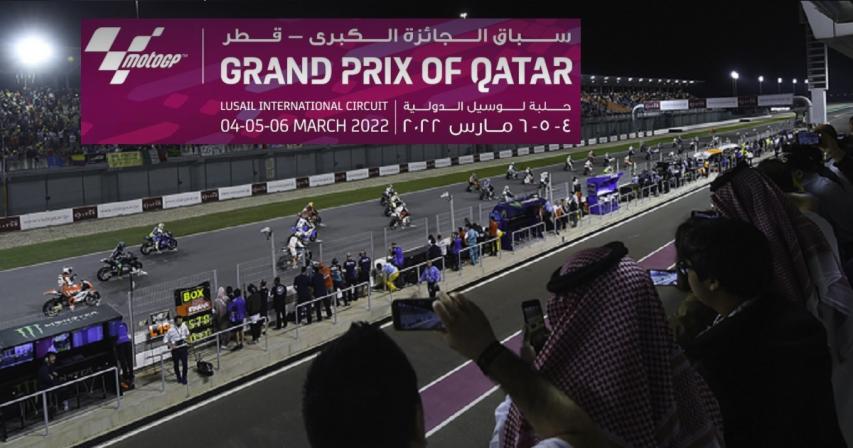 MotoGP - Grand Prix of Qatar 2022
As the grand event continues to garner a lot of attention and momentum, organizers revealed the list of activities that will accompany this action-packed round of the championship.
As the MotoGP - Grand Prix of Qatar 2022 officially kicks off and fan anticipation reaching an all-time high, the organizers of the race to be held at the Lusail International Circuit from March 4th to March 6th released the list of activities that will accompany the grand finale.
What to Expect?
The sports event will be divided into three parts:
• A family friendly Friday during which kids under the age of 12 will be allowed to partake in the event and its various activities for free.
• A memorable Sunday featuring a concert by the talented Bader Al-Shuaibi
• Other activities which will accompany the event include the MotoGP Exhibition which will introduce those who are not very well acquainted with the sport to its historical background and most noteworthy aspects, the Special Moto Exhibition dedicated to devoted fans who will be able to access and take photos with over 20 legendary vehicle models, and a Graffiti Art segment during which 3 live-sized 3D motorbikes will be painted by local graffiti artists.
Where to Book Tickets?
Avid fans of fast-paced sports and action-packed races may book their tickets for the event that will be held at Lusail International Circuit during the first weekend of March. Tickets are now available for purchase starting QAR 200 (QAR 100 for kids), and those who haven't booked theirs yet can secure a spot by visiting www.q-tickets.com.
Berthold Trenkel, Chief Operating Officer of Qatar Tourism said:
"Qatar has been hosting the Motorcycle Grand Prix (MotoGP) for almost two decades, gathering residents and visitors from all over the region to come and watch the thrilling season opener. As the Strategic Partner, Qatar Tourism is proud to host the 20th race held at the state-of-the-art Lusail International Circuit where audiences will enjoy the races in dazzling floodlight and enjoy live music."
In highlighting the variety of activities that this year's MotoGP Racing Championship will offer, QMMF and Lusail Circuits Sports Club President, Mr. Abdulrahman Al Mannai stated,
"I welcome the efforts and inspiring enthusiasm and commitment of every individual within Lusail Circuit Sports Club who actively contributes to the overall success of this major sports event that Lusail Circuit has been hosting since 2004. I also take this opportunity to acknowledge and appreciate the generous sponsorship and unwavering support we have received from Qatar Tourism."
Al Mannai added,
"This year's MotoGP Championship will host a variety of activities that were organized to complement the event for a top-tier experience that will set a new benchmark for fans of the sport. We are also honoured to have joined the Supreme Committee for Delivery & Legacy in organizing an Activation Ceremony to promote Qatar as a global destination for major international sports and cultural events. The Ceremony has brought together MotoGP's 2021 top three riders along with three Qatar Legacy Ambassadors to participate in a sports show, featuring a combination of a friendly motorcycle race and a friendly football match at Lusail Stadium."
Mr. Al-Mannai also mentioned that the event's program was organized in a way that would keep all attendees engaged by including a day of free access to children under the age of 12, music concerts, and moto-racing exhibitions dedicated to both those who are veteran fans of the sport and those who are experiencing it for the first time. He also drew attention to the high levels of hospitality that fans should expect to enjoy during the event in the VIP and VVIP areas describing the overall service and atmosphere as a 5-star rated experience.
Prior to the event, LCSC organized an activation ceremony in cooperation with the Supreme Committee for Delivery and Legacy during which MotoGP's 2021 top three riders Fabio Quartararo (FRA-Yamaha), Francesco "Pecco" Bagnaia (ITA-Ducati) and Joan Mir (SPA-Suzuki) rode their bikes alongside the former Brazilian football player and Qatar Legacy ambassador Cafu from LCSC to Lusail's Iconic Stadium - newly built to host FIFA World Cup Qatar 2022 – where they were met by two other Qatar Legacy ambassadors, the three former Qatari football players Mubarak Mustafa, Khaled Salman and Ahmed Khalil. Once at the stadium, the riders switched into the outfits of their respective national football teams and joined the three ambassadors in a friendly match.
By: Darlene Regis