How to Build a Luggage Collection That Works for You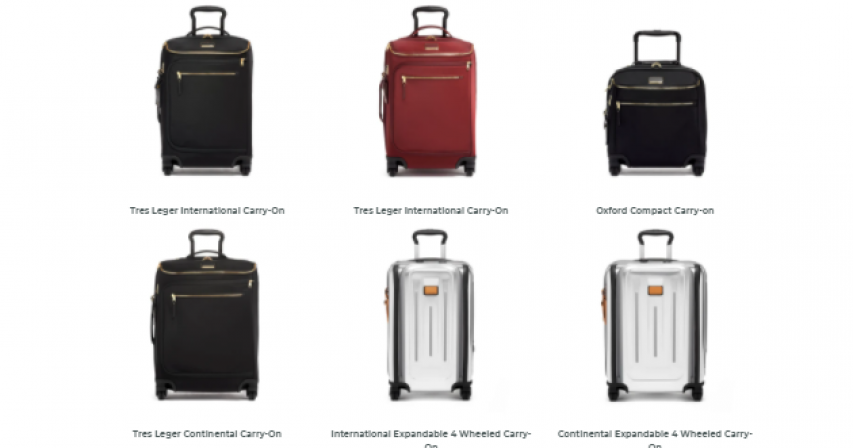 If you are looking to purchase new luggage bags online in the UAE, you want to make sure you are thoroughly considering your options. Keep reading to learn how to build a luggage collection that works for you.
1. Take stock of what you already own
Before you start purchasing any new luggage pieces, you want to spend some time looking through what you already own. In some cases, you may have a collection of pieces that you want to upgrade or replace because they are no longer working correctly. During this process, also consider what you like and what you don't like about the luggage pieces you own.
You may find that you have gaps in your luggage collection that become apparent each time you are on the move. For example, if you frequently take shorter trips, you may want to look into purchasing a backpack, such as the Tumi Dori Backpack. Or, if your current suitcases are too small or need an upgrade, the Tumi Extended Trip Expandable Packing Suitcases are a fantastic option.
No matter what your luggage collection currently looks like, by taking some time to reflect on the gaps, you will be in a better position to choose pieces that are going to improve your travel situation significantly.
2. Compose a wishlist
Now that you have looked through what you already own and have a clear idea of what is missing, it is time to conduct some market research so you can begin to compose a wishlist. Generally, it is recommended that all travellers have a few key pieces, including a durable checked bag, a weekender bag, a lightweight carry-on, and a high-quality backpack.
That being said, as you start to browse your options, you may quickly find yourself getting overwhelmed by the sheer number of choices you have. Therefore, you want to make sure that you keep referring to the notes you made while looking through your current collection. After all, it is easy to be swayed by "pretty" luggage, but it is crucial that you find pieces that fit your requirements.
When making your wishlist, take some time to research different high-quality brands and read previous customer reviews about potential purchases.
Think carefully about the dimensions, materials, and features of luggage pieces that you add to your wishlist. If your luggage is too small, then you will likely find yourself overstuffing it every time you pack, or if it is too big, you will be carrying around something that is unnecessarily burdensome.
3. Always choose quality over quantity
One of the most important things to keep in mind when shopping for new luggage pieces is that not all luggage is made equally. The best pieces of luggage will help to make your commute and travels more comfortable and stress-free, while low-quality pieces can end up being the source of many of the problems that you may encounter while on the go.
Therefore, in addition to purchasing the appropriate luggage for your needs, you also want to ensure that you are buying high-quality pieces that will stand the test of time. While it may be tempting to buy a range of cheaper, low-quality luggage items, you will soon find that they deteriorate quickly ensuring you have to replace them frequently.
On the other hand, high-quality luggage pieces can last years – no matter how many times you use them or how many places you take them. While high-quality luggage may be more expensive than other options, this results from rigorous testing, durable design, premium materials, and innovative technology.
Another thing to consider is the type of customer service that a luggage company provides. The top luggage sellers know how important it is to support their customers and, therefore, offer plenty of ways for you to get in touch with them regarding any inquiries you may have.
4. Don't forget accessories
In many ways, the luggage bag accessories you have are just as important as your actual luggage pieces. You want luggage accessories that help you stay organized, while also protecting your belongings. For this reason, one of the most crucial luggage accessories is a laptop cover that is sleek, functional, and protective. Ideally, your laptop case should also have convenient interior and exterior accessory pockets.
Another essential accessory is a passport case that can hold multiple passports and cards, as well as other organizational pockets and a pen loop. A premium leather passport case is timeless, elegant, and durable, making it ideal for both international travel and daily commutes.
An electronic cord pouch significantly helps to keep your belongings arranged in an accessible way and ensures you don't lose or forget anything. Look for a slim-design zippered pouch, made from a durable material that can neatly fit inside your luggage.
Finally, a hanging travel kit is a must-have as it fits everything you need and doesn't require you to unpack everything. The best hanging travel kits are versatile enough to be both hung from towel racks and laid flat on surfaces. Opt to purchase one that features easy-access openings, multiple compartments, and antibacterial lining, such as the Tumi Hanging Travel Kit.
5. Protect your luggage pieces
Once you have added new luggage pieces to your collection, it is vital that you look after them to ensure that you can get the most longevity possible. While this is significantly impacted by the fabric, color, and quality of your luggage, there are steps you can take to protect it further.
When you travel, you may want to wrap your check-in pieces with either a plastic wrap that is available at an airline kiosk or with your own fabric luggage protector. Wheel covers can be attached to protect your hardworking wheels.
Once you have returned from a trip, make sure to clean your luggage by vacuuming out all the debris, cleaning all washable exterior parts with soap and water, and using a damp cloth to wipe the inside. Then, make sure to store your luggage in a safe, clean and dry place until the next time you need to use it.
Are you in the market for new luggage pieces? If so, what items are top of your wishlist? What do you look for when making these types of purchases? Let us know your thoughts and any additional insights you have in the comments below!
By: Chiyako Ikeda