Successful In-Utero Spina Bifida Repair Leads to Healthy Baby Girl's Birth in the UAE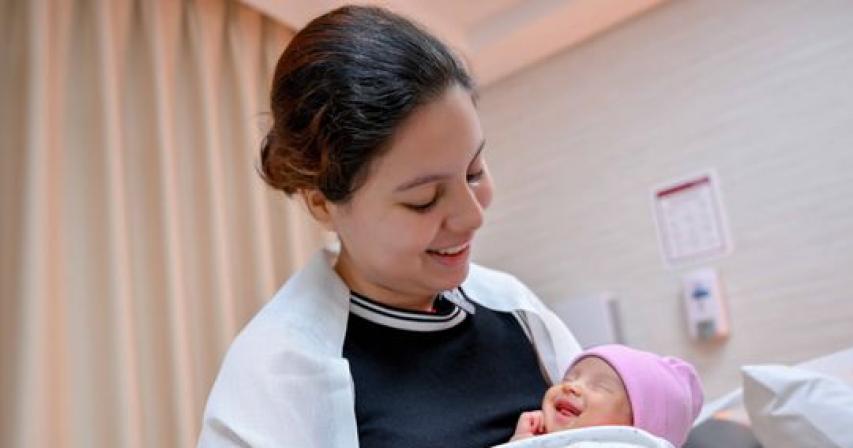 UAE Miracle Baby
In a remarkable medical breakthrough, a Colombian couple welcomed a healthy baby girl after surgeons repaired her spinal defect while she was still in her mother's womb. The groundbreaking in-utero Spina Bifida repair surgery, performed by a skilled team at Burjeel Medical City in the UAE, represents a significant milestone in fetal medicine. Both baby Maryam Violeta and her mother, Liz Valentina Parra Rodriguez, have been discharged from the hospital and are in good health.
Spina Bifida is a congenital condition where the spinal bones fail to form properly, leaving the spinal cord exposed to amniotic fluid. This condition can result in severe neurological complications and physical disabilities, with a global incidence rate of one per 1,000 births.
The surgical procedure took place in June, led by Dr. Mandeep Singh, a Fetal Medicine and Obstetrics Consultant and the Director of the Kypros Nicolaides Fetal Medicine & Therapy Center at Burjeel Medical City. Following the surgery, the medical team closely monitored both the baby and the mother's progress for two months.
During the fetal repair surgery, a small incision was made on the uterus, exposing the baby's back so that a neurosurgeon could close the Spina Bifida defect. A synthetic patch was used to cover the defect, and the amniotic fluid was reinstated into the cavity. The uterus was then closed, allowing the baby to remain in the womb until the end of the pregnancy.
Baby Maryam was delivered by Dr. Ritu Nambiar, an Obstetrician & Gynecologist, when Liz went into spontaneous labor at 35 +4 weeks. The baby, weighing 2.46 kg at birth, had a small gap in the skin on her back, which was closed by Dr. Essam Elgamal, a Neurosurgeon. A neonatal medical team, led by Dr. Iviano Rudolph Ossuetta, the Director of Neonatology, provided care to the baby.
While it's too early to predict the full extent of Maryam's recovery, the medical team is cautiously optimistic about her future. Initial indicators are positive, with normal urinary bladder function and normal leg tone and movements.
Dr. Mandeep stated, "The Spina Bifida repair was successful, and the in-utero procedure is deemed a success. Baby Maryam is displaying positive signs of recovery. Although it's still early to predict the full extent of her recovery, the initial indicators are promising."
The medical team remains in contact with doctors at the Colsanitas Clinic in Colombia, where Maryam will undergo follow-ups with specialists, including a pediatric urologist, pediatric neurologist, and physiotherapist, once she returns home to Bogota, Colombia.
Liz and her husband, Jason Mateo Moreno Gutierrez, are preparing to return to their home country in two weeks, along with their beloved daughter Maryam.
Liz expressed her gratitude, saying, "Our princess Maryam is the best present that we could have ever gotten. God has blessed us with the perfect gift. We are extremely grateful to the UAE, Burjeel Holdings, and the team for taking care of us and helping us during this difficult time. We fully understand that Maryam will need medical attention for the next few years, but we will do whatever we can to support her. We are very thankful to everyone for blessing our daughter."
This groundbreaking in-utero Spina Bifida repair was performed by a multidisciplinary team led by Dr. Mandeep and visiting physician Dr. Mauricio Herrera in June this year. The team also included Dr. Rajasekhar Cingapagu, Specialist Pediatric Surgery, Dr. Essam Elgamal, Consultant Neurosurgery, Dr. Ramamurthy Baskaran, Consultant Anesthesiology & Transplant Anesthesia, Dr. Ahmed Omran, Consultant Anesthesia, and Dr. Iviano Ossuetta, Consultant & Director of Neonatology, along with specially trained operation theatre staff.
By: Vibha Kapoor