Pakistani businessman receives Golden Visa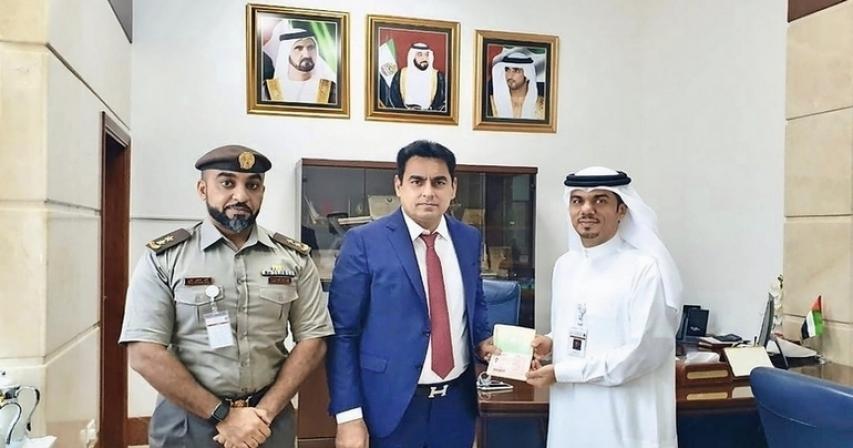 Mohammed Akram, Chairman of Al Musbah Group of Companies, is the first Pakistani national to have achieved the 'Golden Visa' from the UAE government
---
Known to be the largest importer and trader in the region for more than 35 years, Al Musbah Group of Companies specialise in different leading establishments such as contracting, building, aluminium, properties and real estate.
The Great Wall Hotel will soon be a part of the group. Client requirements are a key factor and priority that Al Musbah focuses on, hence carrying a wide range of products that suits everyone's industrial needs.
The group contributes majorly to the UAE economy by offering job opportunities for one and all, especially Pakistani nationals.
Mohammed Akram, Chairman of Al Musbah Aluminium Trading, said: "Our company has substantially helped the market of Pakistan to flourish as we purchase a lot of products from Pakistan. We have been offering our services to the community since 1982, which has further enhanced the growth of industrial work in the UAE."
Akram is the first Pakistani national to have been awarded the 'Golden Visa' from the UAE government, and is proud of his achievement, thanking the UAE for their extended support in his business venture.
He said: "I would like to thank the UAE government, especially HH Sheikh Khalifa bin Zayed Al Nahyan, HH Sheikh Mohammed bin Rashid Al Maktoum and all the other leaders for offering the residents such an amazing opportunity. I am happy to know that I am the first Pakistani to have been awarded the golden card (10-year residency).
The chairman claimed that receiving the Golden card inspired him to invest more freely in UAE, and hopes this will motivate other Pakistani businessmen to invest in UAE soil. He plans to enlarge his establishment by soon expanding his services to other countries.
Akram is insistent on satisfying every client that explores his company's products and services.
"Our goal is to exceed their [client] expectations by offering innovative products, competitive rates, and outstanding customer service."
Experts of the group are distinguished by functional and technical expertise combined with hands-on experience, ensuring the most effective and professional service. "Our commitment to excellent service and world-class quality uniquely separates us from our competitors," he added.
The chairman concludes with a message he wishes to convey on the occasion of Pakistan Independence Day. "We all have to come together and unite to build our country. Through hard work and efficient service, we will surely take our country to new heights. I am taking this opportunity to wish all the great people of Pakistan a beautiful and happy Independence Day."
/ Source: KhaleejTimes