Investigating picture-impeccable Porvoo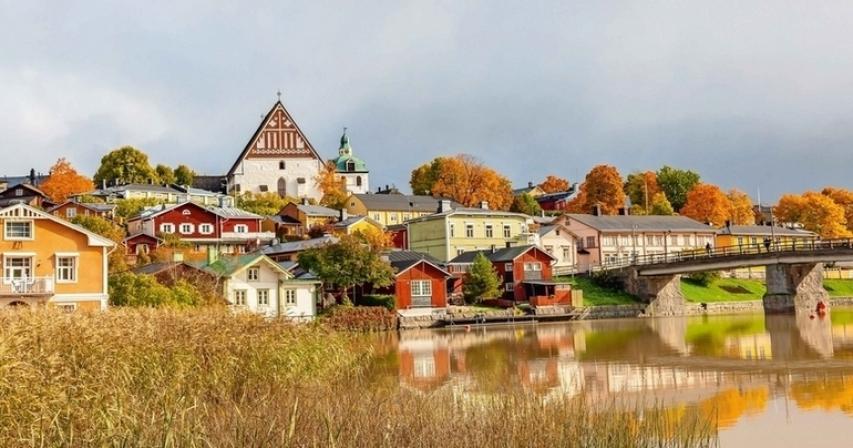 Return in time with this medieval Finnish town with Quaint pastel-toned houses and a rich history
---
Winding cobblestone paths, columns of pleasant wooden clapboard houses in pastel shades, and red ochre painted distribution centers covering the riverbank - it could possibly be a captivating scene out of a fantasy. I am in Porvoo, Finland's second most established town after Turku, going back to the fourteenth century, an advantageous day trip from the Finnish capital, Helsinki. From the start, Porvoo has all the earmarks of being in a time travel. Wooden structures with screens and blossom boxes line the road, a significant number of them beguiling trinket shops, different bistros and cafés.
My home away from home is the Haiko Manor and Spa, a noteworthy inn set in broad grounds with trees, and flanking the Baltic Sea a couple of kilometers from Porvoo focus. With period outfitting and stylistic layout, and its health pools and sauna, I can perceive any reason why it was so mainstream with Russian honorability and the Tsars years prior!
Old town Porvoo is a medieval spot with mark rust-red stockrooms wavering on the riverside. These stockrooms recount accounts of marine and exchanging that the town used to be known for - they were utilized to store outlandish products from tobacco to espresso to flavors from over the world that landed in ships, which headed out upriver to dump their freight here. Today, pontoons ship visitors for visits down the stream mismatched with scaffolds, and bistros dab lively business.
The story goes that the distribution centers were painted this specific shade of red to respect the Swedish King Gustav III of Sweden who visited the city in the late eighteenth century. The red ochre likewise shielded the logs from wind and harm by the sun. Today these natural structures, with blossoms overflowing their wooden screens, are utilized as collectible and book shops and trinket shops, that lure travelers to peruse, just as bistros, cafés and even private homes.
History echoes down each road of the town. Porvoo is accepted to have been possessed since the Stone Age, however it was colonized by the Swedes in the thirteenth and fourteenth century and later taken over by Russia. the Gothic Porvoo Cathedral, with its wooden clock tower, is initially from the thirteenth Century. It has a significant influence ever, in light of the fact that Tsar Alexander I held the Diet meeting in 1809 here subsequent to taking over from the Swedes, and affirmed the new Finnish constitution, making it a self-governing Grand Duchy. This thus, gave Finland more self-sufficiency and strict opportunity. Our guide, Minna Frondelius, clarifies that the notable church building has been burned to the ground or decimated at any rate multiple times and modified - the latest case being that of torching by an inebriated individual in 2006!
The rooftop shingles were as of late reproduced at an astounding expense of 5 million Euro with 37,000 pieces made by hand. Inside the congregation are vaulted roofs, sparkling symbols, a lavish blue platform and even an hourglass (with the goal that the minister realizes to what extent to talk). Minna discloses to us accounts of how bodies were covered inside the congregation those days under the ground and now and again the smell would be horrendous to such an extent that ladies conveyed mint to hold right in front of them. Today it's a famous setting for weddings and christenings.
We walk tough and downhill, through perhaps the most seasoned road of the town considered King's Street that once ran as far as possible up to Norway, fixed with wooden houses in ochre and pista. A few houses have impossible to miss mirrors appended to their windows with metal legs; what Minna clarifies are 'tattle mirrors' and help occupants realize what's happening in the boulevards or with their neighbors without having to seeming intrusive and looking through the blinds!
Minna focuses to a little slope out there where once a strong fortification stood, ruling the valley, which was the area of furious fights during the 1700s. Today this land, called Castle Hill, is loaded with dried channels and wandering ways with enormous pine trees offering all encompassing perspectives on old Porvoo.
I meander past wooden houses with wall, and look into little niches and crevices, with mutual patios, little gardens and blossoms beds. Once upon a time, just the well off could construct stone houses; one such vendor home, that still stands, is the Hold House from 1763. Most wooden structures from the time were devastated in the fire of 1760, when a large portion of the town was torched 'in light of the fact that a housewife neglected to mood killer the fish soup on the stove'.
The town has likewise been home to some popular Finnish individuals who have spent summers here - national artist Runeberg's home, worked in Russian realm style, is today a historical center with botanical backdrop, porcelain in glass cupboards and wooden floors. The town's pastry shops sell a prominent cake in his name called Runeberg's torte produced using almonds, flour and rum beat with raspberry jam. The story goes that the cakes were designed by the writer's significant other Fredrika, to take into account the artist's sweet tooth, with just fixings she had in the kitchen - flour, breadcrumbs, roll scraps and almonds, enhanced with jam and icing. Someone else who lived here and was enlivened by its scenes was acclaimed Finnish craftsman Albert Edelfelt. Today his studio, which sits along the Porvoo archipelago, has been changed over into an exhibition hall with a portion of his drawings and artworks.
Two of Finland's most seasoned avenues, River Street and Between Street, keep running past the Town Hall Square with an outside art advertise. I peruse little old fashioned stores with old mirrors, tin toys, dolls houses and earthenware. Many shop windows have well known Moomin characters from a progression of youngsters' books by Tove Jansson, a Swedish-Finnish writer. My nose drives me to Brunberg Candy Factory Shop, one of the town's most seasoned chocolate shops established in 1871 and taste its tasty truffles and chocolate kisses.
On the opposite part of town is the Russian-manufactured town with structures in the Empire style. During the 1800s, the Russian Czar assumed control over the town and needed to wreck the inflammable structures worked by the Swedes; fortunately the old town of Porvoo was not crushed and he assembled his structures on the opposite part of town. We're happy on the grounds that it just adds to this with its mixed town's multi-social vibe.