Two Indians win $1 million each at Dubai Duty Free raffle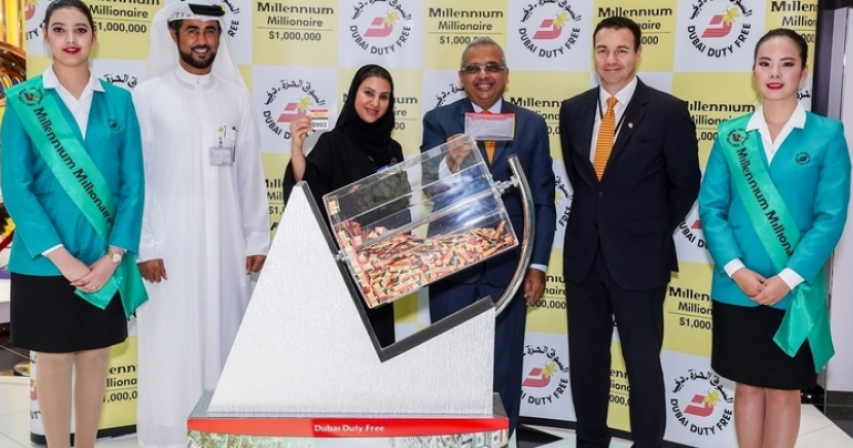 Two Indian nationals living in the UAE got richer by $1 million each on Tuesday after their names were picked in the Dubai Duty Free raffle.

Jaya Gupta, a 71-year old owner of a trading company in Dubai, became a dollar millionaire when her ticket number 0993 was drawn in Series 303. A resident of Dubai for 35 years now, Gupta is a regular participant in the promotion since its inception in 1999 and bought her winning ticket before her flight to Mumbai to visit her mother.

When asked about her plans with her winnings, she said, "Since I started buying tickets for Dubai Duty Free Millennium Millionaire draw in 1999, I always have these two things in mind in case I won $1 million. First, I will donate some money to charity and second, I will buy a house for my two adopted daughters who are in India."

"I love Dubai as my second home and I love shopping at Dubai Duty Free when I travel. This win will definitely go a long way, so I thank Dubai Duty Free for coming with a life-changing opportunity for its customers like me," she added.

Another lucky winner was Ravi Ramchand Bachani, a 37-year old Dubai-based Indian national who won in Series 304 with ticket number 0969. Bachani, a father of one and a Dubai resident for 14 years, runs a garment business and is a regular participant of the million-dollar promotion for the past 10 years now. He bought his lucky ticket on his way to Croatia with his wife during the Eid Holidays.

Surprised upon hearing the news, Bachani commented, "This is amazing, I cannot believe that I am now a dollar millionaire. Thank you so much Dubai Duty Free!"

Two winners of luxury vehicles were also announced in the Finest Surprise Promotion after the Millennium Millionaire draw.

Joravar Singh, a 29-year-old Indian national from Punjab, won a Mercedes Benz in Series 1724 with ticket number 0578. Singh bought his second ticket to Dubai Duty Free's Finest Surprise promotion when he travelled to Dubai to attend a company training.

Commenting on his win, Singh said, "It's my first win and it's my dream car! I couldn't be much happier now, thank you Dubai Duty Free!"

Lastly, Esraa Yousef Mohammad Elayan, a 27-year old Jordanian national from Amman, won a BMW S 1000 XR motorbike in Series 370 with ticket number 0776. Elayan bought her winning ticket online on June 7.
/ Source: Khaleej Times