Sheik Dr Sultan lands in Spain on social visit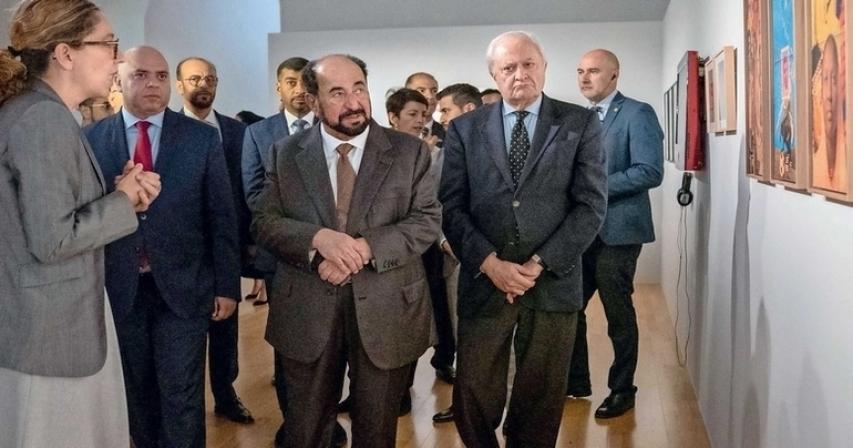 The Sharjah Ruler was gotten by Pedro Martínez-Avial, general chief, Casa Árabe, and senior agents of Spanish social and scholastic foundations.
His Highness Sheik Dr Sultan canister Muhammad Al Qasimi, Member of the Supreme Council and Ruler of Sharjah, has landed in the Spanish capital on a social visit. On Tuesday, he was at Casa Árabe Madrid, which has been working as the key community for Spain's relations with the Arab world since 2006.
The Sharjah Ruler was gotten by Pedro Martínez-Avial, general chief, Casa Árabe, and senior delegates of Spanish social and scholastic establishments.
Dr Sheik Sultan left a note in the association's brilliant register for VIP guests, which peruses: "We are enchanted to visit Casa Árabe, which is a urgent gathering point among Spain and the Arab world. Today, we are here to make a significant stride towards reinforcing the bond between our two societies - one that depends on shared regard and comprehension. We trust this bond is set up at a level that befits the two gatherings."
The Sharjah Ruler saw the marking of a reminder of comprehension (MoU) between the Sharjah Book Authority (SBA) and Casa Árabe, to advance Emirati and Arab societies in Spain. It was marked by Ahmed canister Rakkad Al Ameri, administrator of the SBA, and Martínez, within the sight of heads and senior authorities of both Emirati and Spanish social elements.
The MoU tries to accomplish the objective of structure scaffolds and reinforcing reciprocal relations to advance participation in key social divisions utilized by Casa Árabe's solid local and global system. Under the understanding, the two substances will likewise chip away at executing settled upon projects focused at upgrading social trade. They will build up a program to advance participation between social elements in Spain, Sharjah and the UAE, and steer Spanish social specialists to contriving and applying compelling devices to improve discourse and trade between Sharjah, Spain and the world.
Sheik Dr Sultan visited the Casa Árabe and saw its present presentations, 'Pop Art from North Africa' and 'The Nocturnal Star', by Spanish craftsman and stone carver Cristóbal Martín.