How to Make Shakshuka with Burrata - A Middle Eastern Recipe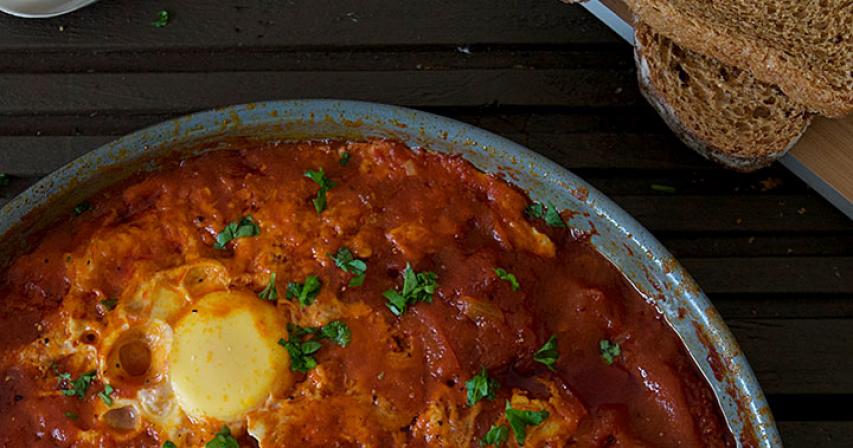 Shakshuka with Burrata recipe
Shakshuka is a hearty, yet remarkably light breakfast dish of eggs poached in a thick tomato-based sauce. It hails from North Africa but has long been an extremely popular dish all around the Middle East.
I've been fortunate enough to have eaten shakshuka in many countries in both regions mentioned above, including the legendary Dr Shakshuka in Jaffa, Israel. Some were thick, some were runny, some very spicy while some were full of bell peppers.
But they all had one thing in common – they were all delicious! Poached eggs in a thick, slightly spicy, sometimes smoky tomato-based sauce. Lots and lots of bread is a must!
Here, I've added a favorite Apulian cheese, Burrata, for a delicious, creamy treat, as you dip into the sauce.
Shakshuka with Burrata Recipe
Shakshuka is a very, very easy recipe to make at home. It's one of those dishes I love making for brunch when my friends come over. It takes about 30 minutes, and I'm chatting with them as I'm cooking it.
Having said that, I've also been known to serve it as a light lunch or dinner when I'm feeling lazy.
As with any popular, traditional recipe, there are tiny differences in the dish from region to region and family to family. Let's take a look at what it takes to make Shakshuka at home.
can't go wrong with yummy cheese!
Shakshuka Ingredients
Tomatoes in Shakshuka
This is the basis of the dish. Some people insist on using fresh tomatoes, some like to use canned. When it comes to tomato based sauces, I have always felt that canned tomatoes give you the best flavour, and that's the route I take.
Naturally, it's a matter of preference and season. If you are using fresh tomatoes, you want the fully ripe, soft and sweet variety to achieve the best flavour. Otherwise, use the canned ones.
A little tomato paste is also great in Shakshuka. I use sundried tomato paste as to me, it's much superior in flavour when used in tomato based sauces. In fact, if you are a long time reader of LinsFood, you'll know that it's a "secret weapon" in many of my recipes.
Paprika in Shakshuka
Paprika adds depth to the dish. And heat if you are using the spicy variety. Whether you should be using smoked or non-smoked paprika in shakshuka is a bone of contention for many. I suggest you try them both and decide for yourself which you prefer.
I love a touch of smoky flavour in my shakshuka, and so usually go for smoked paprika plus some chilli powder, as in the recipe here.
Speaking of Chilli Powder
Every single time I see an explanation for chilli powder written on an American website, it is described as chilli peppers mixed with other stuff. To most of the rest of the world, chilli powder, is just that – chilli peppers in powdered form, nothing else added. What Americans would call ground cayenne or cayenne powder.
To say that cayenne powder is hotter than chilli powder is just plain wrong because it rather depends on what types of chilli were used to make that powder. For eg, I have dried scotch bonnets from last year's harvest. If I were to ground them to a powder in my spice mill, that would be a seriously hot chilli powder, no? And that's what we call it – chilli powder, whether in Asia where I grew up, or here in the UK, where I've been living for over 20 years.
So on LinsFood, chilli powder means pure, unadulterated chilli peppers in powdered form, ground chilli peppers.
Cumin in Shakshuka
Cumin is pretty standard in many shakshuka recipes. It adds an earthiness to the whole dish. I use ground cumin, and really don't know what to make of the cumin seeds in Ottolenghi's shakshuka. I don't really fancy biting into a cumin seed with each mouthful but if you are … feel free to use cumin seeds.
Mini Shakshuka in little tagines
Eggs in Shakshuka
I usually go for one egg per diner, but feel free to go for 2, if you fancy. Chicken eggs or even duck eggs are perfect for his. And I've even used quail eggs when making extra small portions of shakshuka served as amuse-bouche for clients.
What is Burrata?
Burrata is a cheese pouch, to put it simply! It hails from Puglia and has been around since early 20th century. Burrata, which means buttery, is a pouch made of stretchy cheese much like mozzarella, that holds a combination of fresh cream (panna in Italian) and leftover cheese scraps from making mozzarella. These cheese scraps are called stracciatella, meaning small rags. think a whole post on Burrata is called for!
I love burrata, it's cheese and cream in one! To me, tomato-based sauces are the perfect foil to cheese, and one of my favourite parts of eating shakshuka is breaking into a still soft egg and dipping up that runny yolk. This is made even more enjoyable with the soft creamy burrata in the mix!
Shakshuka with Feta
Adding feta cheese to shakshuka seems to be a very, very popular thing to do. And if that is what you prefer, or perhaps you can't get burrata, all you need to do is sprinkle some crumbled feta cheese all over our shakshuka here, after turning the heat off.
Green Shakshuka with Tomatillo
Shakshuka for One
This is pretty easy. Just reduce the recipe here by diving the ingredients by 4, and use a small frying pan perfect for one. Like the green shakshuka above. Here you go, the ingredients for one:
1/2 Tbsp EV olive oil
1 small onion, chopped
1 very small clove garlic, finely chopped
pinch ground cumin
1/2 tsp sweet smoked paprika
1/4 tsp chilli powder (mild or hot, up to you)
1/4 red capsicum (bell pepper)
pinch white sugar
200g (7 oz) can chopped tomatoes
1/2 Tbsp sundried tomato paste
1/4 tsp salt
freshly ground black pepper
1 egg
1 small burrata (or mozzarella to sprinkle over)
some fresh parsley, chopped
Make Ahead Shakshuka/Can Shakshuka be Reheated?
If you want to make your shakshuka ahead, do it right up to the point before you add the eggs. Then just before serving, heat it up to simmering, then continue with step 6 in the recipe below, which is adding the eggs.
What to Serve with Shakshuka?
Bread. Lots and lots of bread! In whatever form. Baguette, flatbread, ciabatta, it's all good!
Let's go cook us some Shakshuka with Burrata!
By: Staff writer
/ Source: linsfood