ECT makes its mark at Najah Exhibition 2019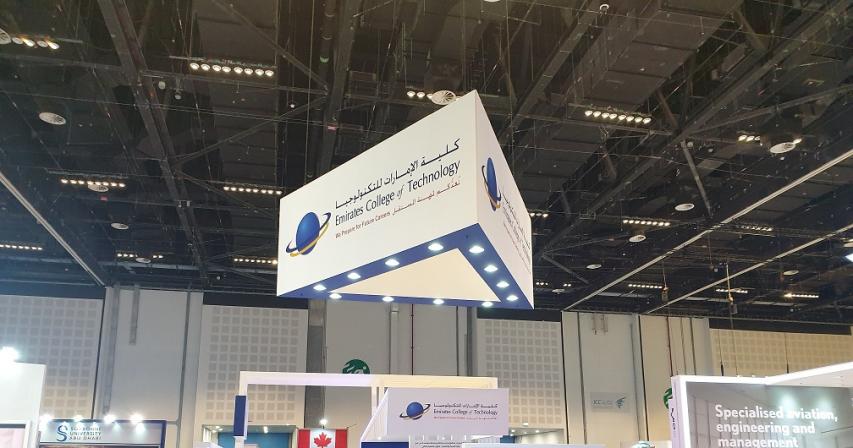 ECT makes its mark at Najah Exhibition 2019
Abu Dhabi, UAE – 30 October 2019: Emirates College of Technology (ECT), one of UAE's oldest and most prestigious universities accredited for quality higher education; is taking part in the Najah Exhibition being held at the Abu Dhabi National Exhibition Centre from the 30th of October to 1st of November; to present their diverse array of academic programs to students as well as individuals aiming to equip themselves for future careers. The new programs will be added to ECT's current portfolio of internationally accredited undergraduate programs.
ECT is participating amongst well known international universities to display the institution's cutting-edge research and state of the art academic offerings tailored to today's changing market needs. The university, which offers an array of health, science and engineering programs at the undergraduate levels, has continuously earned high praise for its contribution to the education landscape in the Emirate. The university recently added new health and civil, mechanical and industrial engineering programs; widening the scope of learning for current and prospective students.
With newly accredited programs and boasting a top-notch faculty, ECT focuses on building real-world knowledge of the students, imparting experiences within a thriving academic community allowing graduates to feel confident and fully prepared for a career anywhere in the world.
Emphasizing the valuable role of the fair in providing a platform to unite thousands of students, teachers, academic professionals and educational institutes under one roof, Professor Abdul Rahim Sabouni, President and CEO of ECT commented "As one of the top ranking universities in UAE, we believe we have an important role to play in supporting UAE leadership's vision of transforming the Emirates into an advanced, knowledge based economy. Najah fair presents an excellent opportunity for us to showcase our existing and upcoming programs and connect with both local and international students. This year we are introducing new courses at Najah that have been designed through extensive research and comprehensive study at ECT; addressing local and international demands with a curriculum that is essential for success in future job market."
-Ends –
About Emirates College of Technology:
Known as one of the oldest and most prestigious institutions in the region, Emirates College of Technology was founded in the year 1993. Accredited by the Ministry of Education in UAE, Emirates College of Technology takes pride in its faculty members who come from 16 different countries across the globe and are recognized for their significant contributions to the development of knowledge, professional service, teaching, and mentoring. In April 2018, the college earned accreditation for their business programs by the Accreditation Council for Business Schools and Programs (ACBSP), Kansas City, Missouri, USA. With a high-quality curriculum, outstanding faculty and top-notch infrastructure and facilities, ECT provides top quality teaching, research, and community services to its stakeholders in line with international best practices that focus on knowledge-based economy, investing in people and technology. For additional information, visit https://ect.ac.ae/.