Gaza Displacement: Israel-Hamas Conflict Impact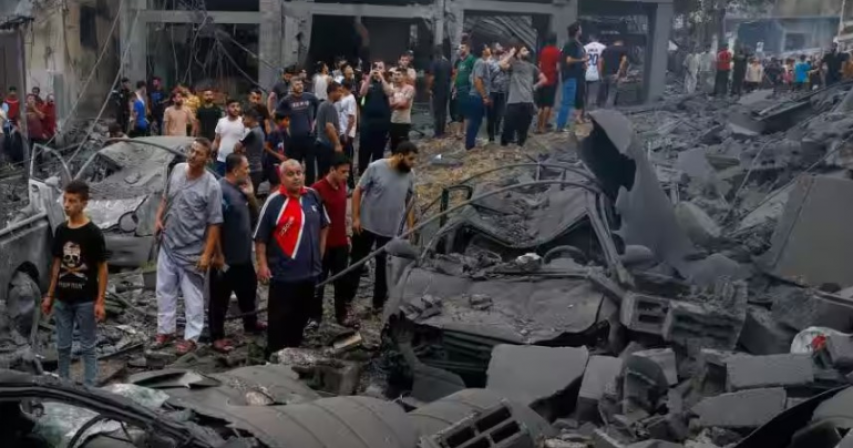 Amid the Israel-Hamas conflict
UN Reports Over 123,000 People Displaced in Gaza Strip Amid Israel-Hamas Conflict
In a recent report, the United Nations Office for the Coordination of Humanitarian Affairs (OCHA) has revealed that more than 123,000 individuals have been displaced in the Gaza Strip since the conflict between Israel and Hamas erupted. This significant displacement is primarily attributed to fear, protection concerns, and the widespread destruction of homes.
Many of the displaced, over 73,000 people, have sought refuge in schools that have been designated as emergency shelters. These shelters offer essential amenities such as electricity, meals, clean water, psychological support, and medical care to the affected population. Adnan Abu Hasna, a spokesperson for the UN Agency for Palestinian Refugees (UNRWA), highlighted the critical role these shelters play in providing support and care to those in need.
The ongoing conflict began when Hamas launched a series of deadly attacks in Israel, firing thousands of rockets, prompting Israel to respond with hundreds of strikes on Gaza. Tragically, over 1,100 civilians have lost their lives during this escalation of violence.
On Monday, the Israeli army announced that its forces were in control of communities in southern territories near Gaza. While this development signifies a degree of control, Israeli military spokespersons cautioned that there might still be terrorists operating in the area. Restoring a defensive and secure posture in the region was reported to be taking longer than initially expected.
Hamas has defended its actions by citing the prolonged blockade of Gaza, a crackdown in the occupied West Bank, and Israel's discussions about annexing Palestinian land as justification for its attacks. Iran, Hamas's primary international ally, congratulated the group on its actions, although Iran's mission to the United Nations denied any direct involvement in the operation.
In a show of support for Israel, the United States has announced plans to deploy multiple military ships and aircraft closer to the region. US Defense Secretary Lloyd Austin confirmed the movement of the USS Gerald R. Ford Carrier Strike Group to the Eastern Mediterranean, in close proximity to Israel. This group includes the aircraft carrier itself, a guided missile cruiser, and four guided missile destroyers. Additionally, the United States will bolster its presence in the region by augmenting squadrons of various fighter aircraft, including F-35, F-15, F-16, and A-10 aircraft.
The situation in the Gaza Strip remains dire, with thousands displaced and civilian casualties continuing to rise. As international efforts for de-escalation and peace continue, the focus remains on addressing the immediate needs of those affected by the conflict and working towards a lasting resolution to the crisis.
By- Sahiba Suri
By: Sahiba Suri