Donald Trump visits US forces in Iraq, defends the decision to withdraw from Syria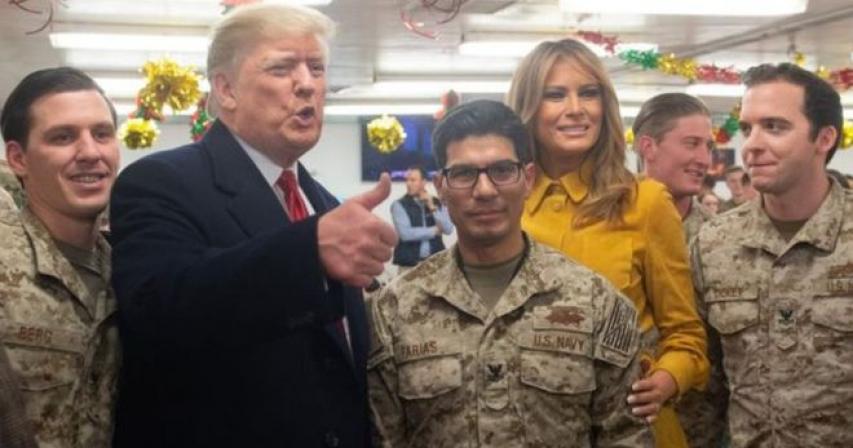 6 months ago / 1458
US President Donald Trump and his wife Melania made a surprise, unannounced visit to Iraq to congratulate US troops there for Christmas.
The White House said Trump and Melania had traveled to Iraq "late on Christmas Eve" to thank the troops there for "their services, their achievements and their sacrifices."
During the visit, Trump said there were no plans for a US withdrawal from Iraq, Reuters reported.
The visit comes days after the announcement of the resignation of US Secretary of Defense, Jim Matisse, because of differences with Trump on the US military strategy in the region.
There are still about 5,000 US troops in Iraq to support the government in its war against the rest of the organization of the Islamic state.
A meeting between Trump and Iraqi Prime Minister Adel Abdul Mahdi was canceled. Abdel Mehdi's office said the cancellation was due to disagreements over how the meeting would be held. Officials said the two leaders spoke on the phone instead of the meeting.
What happened during Trump's visit?

Trump and his wife, accompanied by National Security Adviser John Bolton, boarded the presidential plane to Assad Air Base, west of Baghdad, where they met with US soldiers at the al-Qaeda restaurant.
Trump spent three hours at the base, on his first visit to Iraq.
Trump's soldiers received warm applause as he entered the dining hall. Trump rode among the soldiers to greet them and take pictures of the memorial.
Trump had planned to spend Christmas at his golf club in Florida, but remained in Washington because of the partial closure of the government.
By: Staff Writer
/ Source: BBC