Ultimate guide: Here's where you can celebrate Eid Al Adha holidays in UAE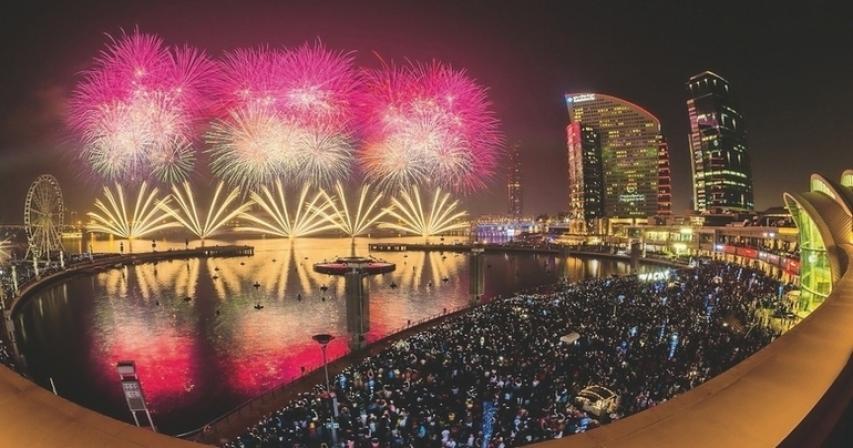 4 months ago / 167
Don't miss out these events during Eid holidays.
---
Eid Al Adha, also known as the Festival of the Sacrifice, will be celebrated across UAE on August 11 and is one of the most anticipated Islamic holidays that are celebrated worldwide. It is a time when families and friends gather together in prayer and spend some quality time with their loved ones.
Eid in the UAE is a time of celebration and honouring the holy significance of the occasion. It is during these times when the region is bustling with its rich culture and heritage, filling cities with a festive vibe full of laughter and joy.
Modhesh World
Dubai brings back their favourite yellow and blue character Modhesh, back to life in another indoor theme park filled with games, rides, live entertainment and food. Families can visit their favourite summer character in Modhesh World at Dubai World Trade Centre from the June 21 until Aug. 17. All throughout the summer, guests can enjoy a free entrance at the park that will be open from noon to 10 pm during weekdays, and from 11 am to 11 pm on weekends.
Dubai Sports World
Enjoy a range of sports activities in a 25,000 sq m indoor multipurpose hall at Dubai World Trade Centre in Sheikh Saeed Hall from the June 19 until Sept. 10. This summer, Dubai brings back its biggest sports venue for passionate and athletic individuals with more facilities catering to all sorts of sports activities ranging from parkour, martial arts, gymnastics, acrobats, volleyball, basketball and much more.
The venue will be open from 8 am to 12 am every day and guests are encouraged to book their space in advance through their website at www.dubaisportsworld.ae before visiting. Furthermore, Dubai Sports World also offers a number of academy sessions for children of all ages that will be taught and supervised by professional instructors.
Dubai Opera Film Festival
For the fairytale movie fans and Disney lovers, Dubai Opera will be hosting a Disney movie marathon from August. 15-30, showing 48 of the best Disney classics such as The Little Mermaid, Peter Pan and Beauty and The Beast.
Relive your childhood with your favourite Disney movies and share your experience with the younger generation by grabbing your tickets at www.dubaiopera.com or purchasing it at any Virgin Megastore outlet. Ticket prices start from Dh40 for kids and Dh60 for adults.
The 1975 concert
Originated from Manchester, England, 1975 started playing together as a band since they were teenagers until eventually, their rhythmic sounds and diverse style of music led them to become an international hit.
This summer, don't miss award-winning British pop-rock band as they visit Dubai for the first time on August 14 at the Coca-Cola Arena performing their hit songs like Chocolate, Girls, and The Sound. Tickets are on sale at www.800tickets.com
Also read: Shopping malls in Dubai to open for longer hours
---
Top six Eid food destinations
This upcoming public holiday, as with many celebrations, has a huge focus on food, so we're bringing you some of the greatest places to enjoy an Eid Al Adha meal around the UAE.
Wonderbrunch
Every Friday, Sofra BLD at the Shangri-la Abu Dhabi creates a wonderland of fun activities for children while you take care of the signature brunch buffet. The team at the restaurant keeps the little ones entertained with activities such as face painting, so you can kick back and eat. The brunch also includes complimentary beach and pool access and is part of the Doggy Bag Initiative where leftovers are given to starving animals. It starts with Dh279.
Freestyling
Freestyle Grill in Al Seef Dubai is offering a lavish a la carte dining experience with an added cause. By partnering up with several reputable charities, the restaurant aims to give back. Receive an exclusive 15 per cent back on your bill and either uses that money on yourself or donate it to charity. It's your choice.
Mountain view
Nestled between the towering Hajar Mountains and the sea, just 90 minutes away from Dubai, Le Méridien Al Aqah Beach Resort Fujairah's beach-front ambience and friendly hospitality make it the region's most loved getaway on the East Coast. The resort has planned a special treat for you, starting from August 11 - 13. Bringing delicacies from Views restaurant, the resort is geared up to take you on a sensory journey on all three days with its Eid Classic Brunch, priced at Dhs119 from 12.30pm - 3 pm.
Bollywood food
Celebrate Eid Al Adha at Bollywood Parks and enjoy blockbuster cinema-themed rides and entertainment like never before. There are offers on one-day park tickets such as four for Dhs200. Pay an extra Dh50 and upgrade for unlimited food and beverages to enjoy Indian delicacies across all restaurants at the park, including Studio Canteen, Mughal-e-Azam and Victoria Station.
Satwa special
One of the best offers in town, the Jumeriah Rotana's Olive Oil restaurant is putting on an Eid dinner with unlimited chilled juices, water and coffee or tea for Dhs125 for two persons. Featuring a wide array of International and Arabic cuisines, it is the perfect spot. Children six years old and below dine for free.
First place
A lunch featuring traditional dishes, Indian classics and Asian favourites, Arabic cold mezze, western delights and speciality dishes is taking place at The Podium, Grand Millennium Business Bay. Served on the first day of Eid, the lunch will be from 12.30pm to 4 pm with prices starting at Dhs165 with soft beverages. Kids aged six to 12 can dine for Dhs83 and below the age of five dine for free.
---
Where to watch Eid fireworks
One major attraction that enthrals every onlooker are the fireworks that mark most of the events and festivals in the UAE.
The Dubai Festival City Mall will be holding a fabulous display comprising a combination choreography of fire, laser and water along with dazzling fireworks. Four shows would be held during the two days (August 11- August 12) of Eid Al Adha and will take place at 8 pm and 10 pm.
The sky will also light up with some fabulous fireworks at the Yas Marina in Abu Dhabi. Visitors and residents can enjoy the fireworks from the deck of 'Captain Tony's Eid Fireworks Fun Cruise' while taking a tour of the marina. The cruise takes off at 8:30 pm each night from August 11 to August 13, 2019.
This would cost Dh100 for the adults and Dh50 for the children (6 to 12 years). The access to the marina is, however, free of charge.
---
Top 12 staycation offers
How long do we have this time around? Yipee! What an unexpected surprise for Eid Al Adha. Almost a working week means we can have a lovely vacation. Here are some of the best deals going.
RAK it up
What beach! With prices starting from Dhs1000 per night per room including breakfast, a delicious dinner and live entertainment, celebrate at the Hilton Ras Al Khaimah Resort & Spa in style. Better yet, you'll get access to the resort's luxury facilities including The Spa, as well as complimentary entry to the swimming pools and that shoreline. Beautiful.
House party
The Greens Dubai has a new hotel! Zabeel House by Jumeirah is going all out with a range of staycation offers for you to recharge in the city's funkiest neighbourhood hangout. Choose from the rooms, studios and apartments with their urban loft vibes and Arabic-inspired artworks. This Eid enjoys a 25 per cent discount including breakfast on apartment rates.
All aboard
Climb the regal gangway and board the iconic QE2 to celebrate a memorable holiday. From free food for kids and interactive kids club activities to complimentary heritage tours and QE2 Spa discounts, you'll love the family rate of Dh599.
H marks the spot
Right in the centre of town, The H Dubai promises fine moments if you book a minimum of a three-night stay between August 8 and 20. You'll get 10 per cent off on best available rates and a delightful 20 per cent off on Mandara Spa treatments.
Marina views
No need to stray too far, Wyndham Dubai Marina has launched a budget-friendly, 3-4-2 offer. The hotel's special 'Stay 3, Pay 2' packages ensure you enjoy the perfect mix of big-city thrills with beach or poolside chills but at the fraction of the cost. Rooms start from Dh307 per night and, of course, if you book a two-night stay you will get your third night free.
Pristine shores
Immerse yourself amongst natural beauty, relaxing in the luxurious, five-star island surroundings at the Saadiyat Rotana Resort & Spa, Abu Dhabi. Book an exclusive Club Rotana Suite or luxurious Villa and the resort will give you back credit of up to Dhs1000 that can be redeemed at any of the signature restaurants and world-class facilities.
JA that's good
Enjoy rates as low as Dhs369 while trying new experiences such as the cinema-in-the-pool, zip-lining, wall climbing, mountain biking and kayaking, or go for a more laidback weekend with chilled beverages in the water, spa treatments and me-time with a good book at the travel home JA Hatta Fort Hotel in, well, Hatta!
Family fun
Those on the hunt for child-friendly holidays, Rosewood Abu Dhabi has a Family Time stay package. Book a suite at the luxury hotel and have two of the most popular tourist activities exclusive to the capital such as a trip to Yas Waterworld, Ferrari World, Warner Bros. World indoor theme park, or a cultural experience at the state-of-the-art Louvre Abu Dhabi thrown in as part of the deal.
All-in
We love all-inclusive, so this has us very excited. Book with Rixos The Palm Dubai Hotel & Suites and receive 30 per cent off on the ultra-all-Inclusive holiday package, including an unlimited selection of international cuisines and beverages across all restaurants, complimentary access to an array of thrilling non-motorised water sports activities along with the Rixy Kids Club and complimentary shuttle bus transfers to the Mall of the Emirates.
Royal treatment
Le Royal Meridien Beach Resort & Spa has launched an offer for Dhs700 per night, which includes a luxury overnight stay at the stunning property, as well as breakfast and lunch at Brasserie 2.0.
Bait hotel
Situated in the Heart of Sharjah, Al Bait Sharjah is a member of The Leading Hotels of The World. Having opened doors in December 2018, the resort brings together the best modern comforts and amenities with echoes of the old-world UAE. The property has transformed historic manor houses to create a magnificent escape that is home to 53 exquisite rooms and suites. It also features a variety of cultural experiences and architectural sights including the UAE's only round wind tower and authentic antiques.
Park life
The summer-long 'third night free when booking two' offer at Lapita Hotel, part of Marriott International's Autograph Collection allows you to escape for triple the fun with tickets to the neighbouring amusement parks, such as Legoland, Motiongate and Bollywood Parks, included as part of the rate. Rooms go from Dh415 per night. Start planning which rides to go on.
/ Source: KhaleejTimes