UAE has pledged $50mn to help stabilise the eastern Syrian city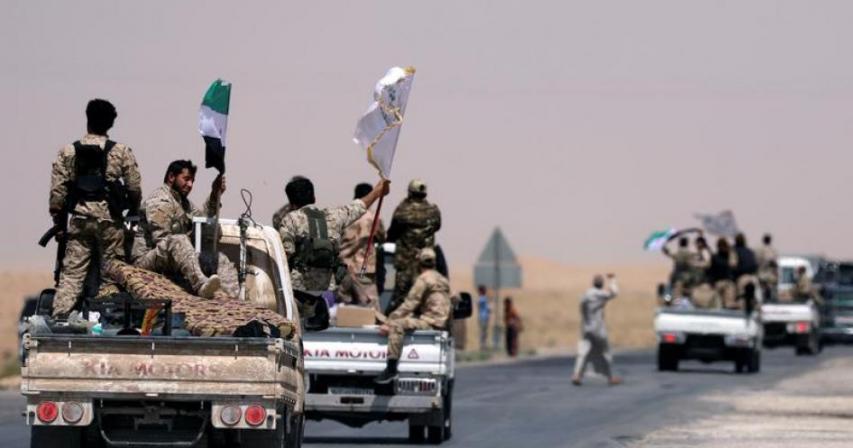 Credits: Reuters | Syrian Democratic Forces (SDF) fighters on their way to Raqqa, Syria
7 months ago / 2718
Recently, the United Arab Emirates had announced that it will contribute $50m to aid the efforts in stabilizing the war-ravaged country of Syria.
"We are closely coordinating with the alliance to improve living conditions in affected areas," said Mohammad Ahmad Al Bowardi, the Minister of State for Defence Affairs. He made an announcement in a meeting of the Global Coalition against Daesh.
The efforts are being put in place to help in stabilization efforts in Raqqa and other areas.
The United Arab Emirates' delegation to the NATO summit was also chaired by Al Bowardi where the latest political issues of Afghanistan were discussed.
The rebuilding of the historic Al Nuri Mosque is being assisted by the United Arab Emirates, present in Mosul's old city. The announcement for the support in the five-year project was made in April and Abu Dhabi had contributed $50.4 million.
"This is an initiative that defeats extremism in all its facets. We don't want to allow the destruction of the past and the present. We won't allow this to happen, therefore we are very much committed to the Iraqi government and to our partners in Unesco, with whom we share the project of the rebuilding", Noura Al Kaabi, the Minister of Culture and Knowledge Development, said.
"The idea is to preserve what is left of Al Hadba minaret, basically the square prism, and turn it into a memorial. This is about telling the story of what happened to the people. Somewhere on the haram of the Nuri mosque, we will construct a replica of the minaret", Louise Haxthausen, director of the Unesco office for Iraq had said.
"The UAE has been consistent that its leadership and its people want a clear path to peace," she said. "What we can do to defeat extremism, hatred, violence, especially with having [ISIS] as a horrific group that tainted the image of Islam To have such a site that is synonymous with Mosul and its skyline. How are we honouring Mosul if we are not getting in there and helping," Noura Al Kaabi added, according to The National.
By: Staff writer