Sindh High Court bans team Karachians from promoting T10 cricket league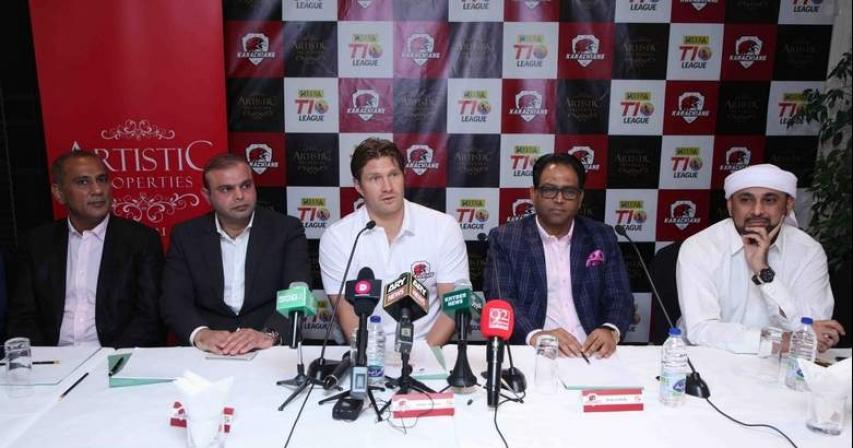 Shane Watson during launch of The Karachians team jersey | image: khaleejtimes
2 months ago / 5103
In a blow to the United Arab Emirates (UAE)-based T10 league, the Sindh High Court has issued an interim order against promoting the "Karachians" in any manner in Pakistan.
The directive comes after Karachi Kings, the Pakistan Super League (PSL) franchise, sought a stay order from the court against the UAE T20 league's usage of the name Karachi. As per the court's order, TV and radio organisations in Pakistan are barred from broadcasting, advertising or promoting anything from the T10 league related to the Karachians — or any other team using Karachi in their name in Pakistan or abroad — till the case's next hearing on November 15.
The Karachians is one of the eight franchises in the T10 league, which apparently draws its franchise names from various parts of the subcontinent, for example Kerala Kings, Bengal Tigers and Punjabi Legends. The league is set to be played in Sharjah from November 21.
In response to the writ petition filed by Karachi Kings owner Salman Iqbal against the T10 management, the court issued its directive to the Pakistan Electronic Media Regulatory Authority (PEMRA).
Earlier this week it was reported that five out of the six PSL franchises had written a letter to PCB chairman Ehsan Mani, voicing concern over what they felt was encroachment by the T10 league into what they consider their territory.
By: Staff writer
/ Source: dailytimes.com.pk