Mani Suri to host pottery exhibition in capital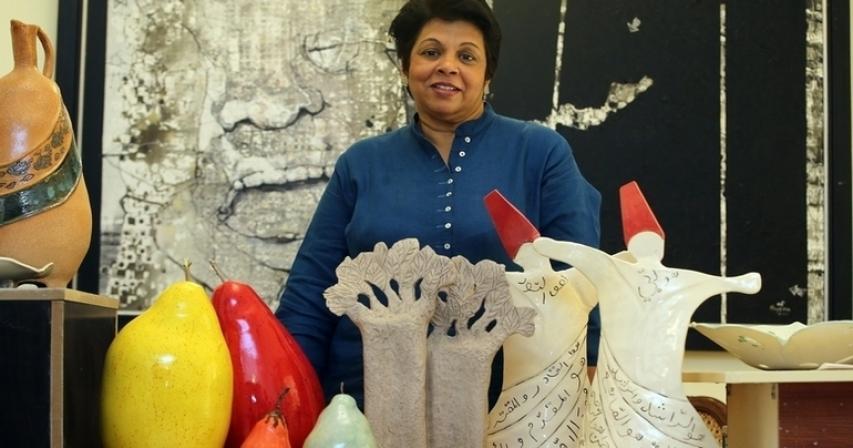 When we met artist Mani Suri at her pottery studio in Abu Dhabi late last year, she was surrounded by her artworks in different shades and shapes. She had confided to us how she was looking forward to hosting an exhibition in the city. The time seems to have finally come as Down to Earth, Mani's Vibrant Creations in Clay, opens at the 90th floor of the Burj Mohammed bin Rashid (next to World Trade Centre Mall, Abu Dhabi) for a two-day exhibition on September 14-15. Held under the patronage of Sheikh Nahyan bin Mubarak Al Nahyan, Minister of Tolerance, the exhibition hosted by her ardent supporter and husband, the outgoing Indian Ambassador to the UAE, Navdeep Singh Suri, will showcase her collection including the stoneware platter she first made in 2006 in Johannesburg, South Africa, under the tutelage of her guru Kim Sacks.
"Pottery has been my passion for the last 12 years and it's become my habit to spend as much time as possible in my studio with the clay. During our time in Abu Dhabi, I created a lot of pieces and doing an exhibition is a way to share my creativity with my friends here," she tells City Times.
As she and her husband get ready to bid goodbye to Abu Dhabi, Mani is understandably sentimental about the region, that has nurtured her creativity.
"Abu Dhabi and the UAE has been very inspiring for me," she says. "I feel wherever you go, be it a mall or a monument, there is lot of creativity all around. And if you have that kind of an eye, you get inspired to do things your own way. My pottery is very colourful and the UAE has inspired me to do things using bold colours. And of course, some pieces are inspired by the local landscape. Actually I have named one of my pots Desert Safari."
Proceeds from the sale of the pottery at the exhibition will go to a charity Mani has been supporting for years, Salaam Baalak Trust. Mani hopes to start a Pottery Café Studio in her hometown, where people can come in and work with clay. She also wants to dedicate one day specially to the children from the Salaam Baalak, so they can connect with themselves through the act of working with clay.
The life of a diplomat's wife is no easy one. But going by Mani Suri's achievements, nothing is insurmountable. "If you look around with a keen eye, you will find beauty in everything. Relate to what fascinates you. Find your creative spot within you around that, be perseverant and spend "me time" doing it."
/ Source: KhaleejTimes