Indian wins $1m in Dubai raffle, to share it with 41 others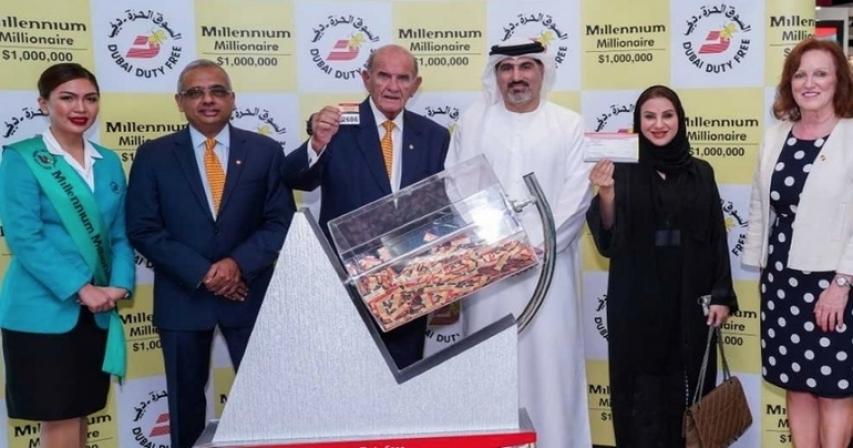 4 months ago / 146
Another group of 10 residents will be sharing $1 million they won in another draw on the same day.
---
There is strength in numbers. Two groups of expats have won the latest draws of Dubai Duty-Free (DDF) Millennium Millionaire on Tuesday.

Indian expat and long-time Ras Al Khaimah resident Bantwal Annu Sudhakar, 47, led a group of 42 people who won $1m (Dh3.67m) in DDF Series 307, with ticket number 2686 which they bought online.

"There are 42 of us in the group. I guess there is strength in numbers. With 42 people praying and hoping to win, there is so much outpouring of positive vibes that's why we won the jackpot," Sudhakar told Khaleej Times over the phone.

Each of them will receive at least $23,809 or Dh87,381 or Rs1.7 million. Each of them also contributed Dh25 to buy the Dh1,000 ticket, including tax.

"This is amazing, I cannot believe that we won. My team is very happy, and a big thank you to Dubai Duty-Free," said Sudhakar, a father of two and a UAE resident for 10 years. He works as a powerplant manager for a RAK-based power company and is a regular participant of the million-dollar promotion.

Another group of winners was led by 29-year-old Indian expat and Dubai resident Neeraj Hari. He and his nine colleagues will share $1m (Dh3.67m) for winning in Series 306 with ticket No. 2711. Each of them will take home $100,000, or Dh367,000.

Hari is a resident of Dubai for four years and also a regular participant of the Dubai Duty-Free promotions. He works for a logistics company in Jebel Ali.
/ Source: KhaleejTimes