An 'out-of-the-world' experience at Disneyland, California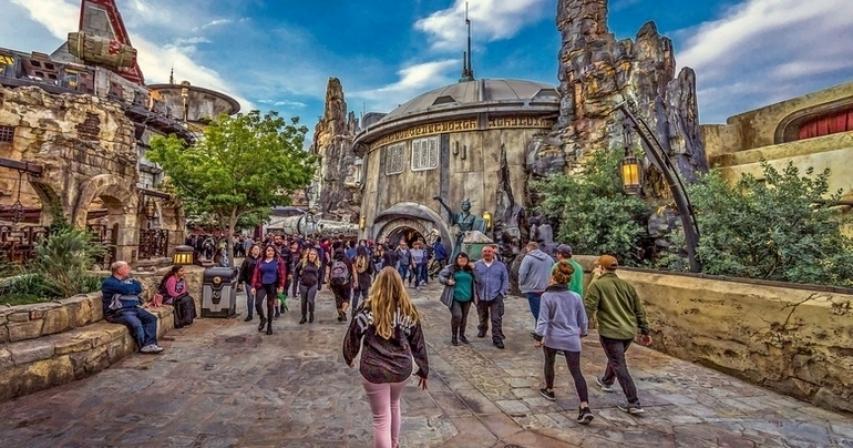 You know you've arrived somewhere special when you can hear oohs and aahs from a crowd in the distance before you even get there. They are echoing through the tunnel I'm strolling down and I soon see why.

The view at first doesn't seem to be blockbuster. There's a wonky stone staircase leading to a mud hut with some windchimes and a broom outside. The big reveal comes when I head around the turret. The series of rocky spires soars well over 100 feet high and at the foot of it is something I never thought I'd see in my lifetime - the iconic Star Wars spaceship the Millennium Falcon. Every pipe, panel and cable is exactly where I remember it being on the silver screen but this is no movie set. It's Star Wars: Galaxy's Edge, the newest land at Disneyland.

It looks familiar because the land is based on classic architecture from the sci-fi movie series. The huge circular turrets are home to shops and restaurants, there's an encampment hidden in a forest and sleek military bases are cut into the side of the rocky spires. It all has the Star Wars hallmark of being a bit beaten up.

When Star Wars was released in 1977, its realism captured the imagination of movie-goers. Up to then, sci-fi movies usually had a sterile appearance with spotless floors, strip lighting and gaudy costumes. Star Wars was a game-changer as its worlds looked lived in. Dusty boxes sat in the corners of rooms on the spaceships, wires hung out of the walls and the futuristic vehicles were battered and rusty.

Disney has used every trick in its spell book to recreate this rustic atmosphere in Galaxy's Edge and the land itself is the star attraction. The rock-work isn't just artificially weathered, it is covered in fake moss and dried plants. Rubble even appears to have rolled down to the base over time. Steam pours out from underneath the Falcon and its engines glow, giving the impression it has just landed.

Hidden behind the ship is a six-seater simulator which pitches and tilts in time to photo-realistic computer graphics on a wraparound screen in an experience akin to a giant video game. There's not much time to take it all in though. Unlike most theme park rides, you're in control of the action on this one and just moments after I've belted up it all kicks off. Each guest is given a role to play before getting into the cockpit and you have to work together to complete the mission. Luckily you don't actually have to be a rocket scientist to pull it off.

Gunners and engineers know it's their turn to act when buttons light up and if they aren't quick enough, it can change the course of the mission. The more damage to the ship, the harder it is to control which makes it even more difficult to chase the target - a flying train carrying some smuggled cargo. If you come with kids in tow, you'll be begging them for the pilots' seats.
No trip on the Falcon would be complete without hearing the words: 'it's time to make the jump to light speed'. The immortal line was famously uttered on-screen by Harrison Ford's alter-ego Han Solo and I can't stop grinning when I get the instruction myself over the loudspeakers in the Falcon's cockpit. I almost lose grip of the light speed levers as I pull down on them and the sensation of speed pushes me back into the seat. Seconds later, I'm ducking as asteroids pass perilously close to the cockpit. Warning sirens blare out and a blast of cold air hits my face as a giant rock comes out of nowhere and slams into us.

It's an immersive experience. So much so that after I unbuckle, the first thing that crosses my mind is that I've got to get a selfie in the cockpit before the ship takes off again with another crew. After smugly smiling at the photo on my phone screen, my ego is brought crashing down to earth by a message on the loudspeakers proclaiming that the Falcon is so smashed it isn't even fit for a scrapheap. The shame!

It sparks finger pointing from the crew about who was to blame but that soon comes to an end. As we pass an alcove in the souk, I notice that a trader selling Star Wars toys which look out of this world. They aren't the plastic figures I remember from my childhood but cute dolls of classic characters which look like they have been hand-crafted by local artisans for their alien offspring.
The land takes authenticity so seriously that you won't see the Star Wars logo on the toys sold there or hear the theme tune belting out in the background. They wouldn't be found in an alien planet and that is exactly what this ultra-real land is meant to be. Staff name tags are written in the Star Wars alphabet of Aurebesh, as are the logos on spherical bottles which look like mini versions of the loveable droid BB-8.

There are so many photo opportunities that it's essential to bring a spare phone battery and you'll also need some well-worn shoes as the land itself is 14 acres. It couldn't feel further from the bright colours and cuddly characters in the rest of Disneyland.

Just next door to Galaxy's Edge is Big Thunder Mountain, a roller coaster themed to a runaway mine train which winds around a mock-up of a canyon. A few steps away is Splash Mountain, which is based on the fairytale of Br'er Rabbit and climbs up the side of a man-made mountain before launching into a fake briar patch.

Walt himself launched Disneyland in 1955 but his influence also shows through in its neighbour which opened 35 years after he passed away. The Disney California Adventure park is themed to different areas of the golden state from an old-fashioned seaside and wharf to the Rocky mountains.

A replica of a 1930s Hollywood street greets guests at the entrance. Shops are hidden in realistic-looking Art Deco buildings which have doorbells next to the entrances and terracotta tiled roofs with weathervanes on them. At the end of the street, is a soaring white-washed tower which looks like the Carthay Circle, the Los Angeles cinema where Walt hosted the 1937 première of Snow White and the Seven Dwarfs. It doesn't have a ride inside but a swanky restaurant serving dishes like heirloom tomatoes on toast and salmon caught in Canada. With dark wood panelled walls and golden chandeliers, it has an elegant atmosphere and it isn't uncommon to see smartly-dressed couples dining there.

The adult tone continues in Soarin' Around the World, a simulated hang glider ride over some of California's well-known landmarks. Guests strap themselves into seats which rise in front of a huge domed screen and sway and pitch in time to the on-screen movie. A sweeping orchestral score complements the experience.

The must-see ride for kids is Toy Story Mania, a modern twist on fairground shooting ranges. Sitting in a ride car, you don 3D goggles and take control of a spring action shooter which appears to launch everything from baseballs to custard pies at on-screen targets themed to the computer-animated Toy Story movies.

Unlike most rides, this one fights back, meaning you get blasted with bursts of air cleverly timed to the 3D projectiles hurled at the screen. You get a score at the end based on how many targets you hit so, if you've got competitive kids, be prepared to spend a lot of time on this one.
You'll want to stay in the park until the end of the day when the lake in the middle hosts World of Color, a son et lumière like no other. Pin-sharp footage from Disney movies is projected onto giant mist screens formed from fountains fanning out on the water. More than a thousand other multi-coloured jets of water and lasers dance to the catchy tunes whilst flame-throwers hurl huge fireballs into the sky during the scenes from the Pirates of the Caribbean movies.

After all this excitement, you won't want to walk far to get to bed. There are three on-site hotels at Disneyland and the roads around it are lined with even more. Outside the resort, the most convenient is the Hilton Anaheim which is a haven of calm just a ten-minute walk from the parks down palm-tree lined lanes. The deluxe rooms have sweeping views of the major landmarks in both parks allowing you to get spectacular photos and plan your day before you head out.
Two days in each park gives you enough time to take it all in and it's easy to fill out a week with tours around local movie studios and window shopping in chic Beverly Hills. You will want to make the most of it because the only downside to all this escapism is that, when it's finally time to leave, it's even harder to come back down to earth.
/ Source: KhaleejTimes