Things to do in UAE this weekend: Fitness, music and more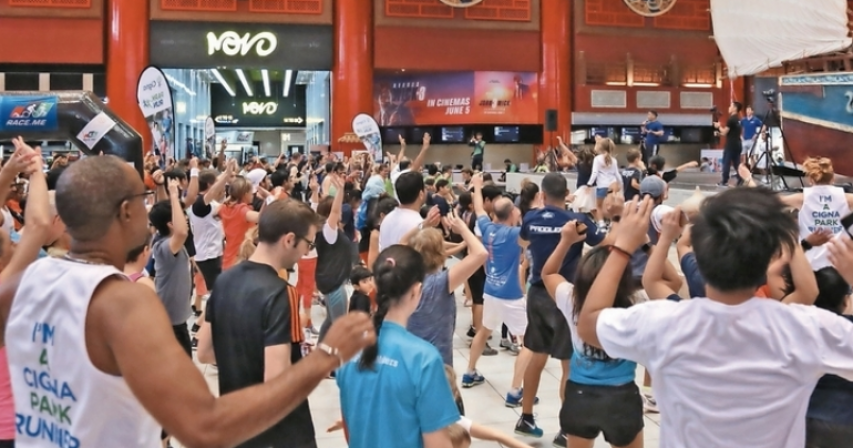 How to make the most of your Thursday, Friday and Saturday.
Aussie MasterChef
Brand new restaurant taking Dubai by storm, MasterChef - the TV Experience at Millennium Place Marina, is turning over its open-plan kitchen to world-famous Diana Chan, the MasterChef Australia 2017 winner, from Saturday. This place showcases winners from the popular cooking show's multiple global editions and Chan's six-day residency will see the Malaysian-born celebrity chef cooking up a five-course tasting menu that pays homage to her Asian heritage and life in Australia. Packages start from Dh215 per person.
Indoor free c fun on your day off
Ibn Battuta Mall is hosting the free Cigna Park Run to encourage fitness during the summer. The next one is on July 6 starting at 8.30am at China Court with a warm-up session by Fitness First, followed by a walk, jog or sprint over a distance of 2.5km or 5km to cover all six travel-themed courts of the mall. Participants will receive a free gym bag from Skechers. Register at www.raceme.ae/battutarun.
Phone to win
Seen these green boxes lately? That's right, The Dubai Mall is back with branded 'Surprize' Telephone Booths. Take random calls in the kiosks for a chance to win an instant prize upon answering trivia questions correctly. All you need to do is pick up the phone and swipe right on the digital screen to answer.
Sushi time
Who can resist beautifully- prepared sushi? We love a roll or two and every month Sumo Sushi & Bento introduces two new appetising dishes to its extensive fresh menu. For the rest of July check out the Mt. Fuji (cream cheese, shrimp tempura, cucumber and avocado, drizzled with spicy mayo) and coconut prawns.
Spin this, RAK
Get your dancing shoes on as Pura Vida at Hilton Ras Al Khaimah Resort & Spa is showcasing Colombian DJ Wilmer Duran from 7pm pretty much every night of the week. Get down there and he will captivate you with Latin, Caribbean and reggae beats on the Feeling Irie nights every day except Tuesdays.

Cancel all your clubbing plans, we've got you covered
Roman night
It's the regular Friday evening Roman Empire night at Cavalli Club Dubai complete with its great shows and usual opulence. Sit down to eat then dance the night away. Where: Cavalli
Desiigner
He's American, he's a rapper and he's big, so he'll fit in well at Boa Lounge tonight for the 4th of July party. Desiigner will be playing his hit Panda and many more from 10pm onwards. Where: Habtoor City

Skorpeus
This cabaret nightclub at the Emerald Palace Kempinski is as secretive as it is fun. On Fridays their shows and parties have people queing up, so get down there.
Where: The Palm
/ Source: Khaleej Times